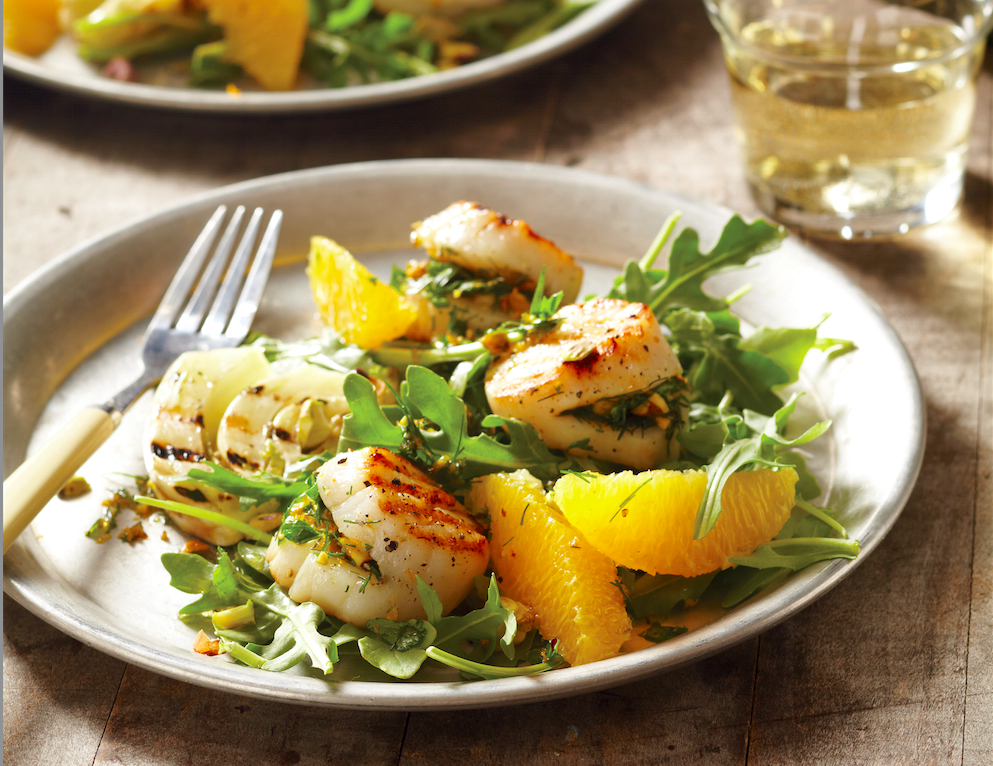 Ordinarily we'd pass the "quick and healthy" cookbook section in lieu of something with more cheese, but if you're going to cook light, better take a page out of Better Homes and Gardens. These grilled orange pistachio-stuffed scallops are as attractive to behold as they are delicious.
Each bite of these stuffed scallops contains a burst of fennel, orange, parsley and pistachio.
Reprinted with permission from The Ultimate Quick & Healthy Book
Ingredients
12

large

sea scallops, fresh or frozen, 1 to 1 1/4 pounds

1

small

fennel bulb

3

fresh oranges

3

tablespoons

olive oil

2

tablespoons

fresh Italian flat-leaf parsley, snipped

1

tablespoon

pistachios, finely chopped

1

tablespoon

sherry vinegar or white balsamic vinegar

2

teaspoons

honey

salt and ground black pepper

4

cups

fresh arugula

pistachios, chopped (optional)
Directions
Thaw scallops, if frozen.
Rinse scallops; pat dry with paper towels.
Split scallops horizontally, to the opposite side (but not through it).
Remove fennel fronds and chop enough for 2 tablespoons.
Trim and quarter fennel bulb.
Finely shred 1 teaspoon of peel from one of the oranges.
Working over a bowl to catch any juice, use a sharp knife to peel and section the remaining oranges.
For the gremolata, in a small bowl combine fennel fronds, orange peel, 1 tablespoon of the oil, the parsley and 1 tablespoon pistachios; set aside.
For the vinaigrette, in a screw-top jar combine remaining 2 tablespoons oil, 1 tablespoon reserved orange juice, the vinegar and honey.
Cover and shake well to combine. Season to taste with salt and pepper.
Stuff scallops with the orange gremolata (as much as needed, reserving the rest).
Secure closed with toothpicks, if needed.
Lightly brush scallops with additional oil.
Sprinkle scallops with salt and pepper.
Place scallops in a lightly greased grill pan.
For a charcoal or gas grill, place grill pan with scallops on the grill rack directly over medium-high heat.
Place fennel directly on grill rack over medium-high heat.
Cover and grill 11 to 14 minutes or until fennel is lightly charred and tender and scallops are opaque, turning once halfway through grilling.
When cool enough to handle, slice fennel.
Place arugula on a serving platter.
Top with fennel, orange segments and scallops and sprinkle with any remaining gremolata.
Drizzle with vinaigrette and if desired, top with additional chopped pistachios.
Find more grilled shellfish on Food Republic: