Stack Up This Chocolate Orange Crêpe Cake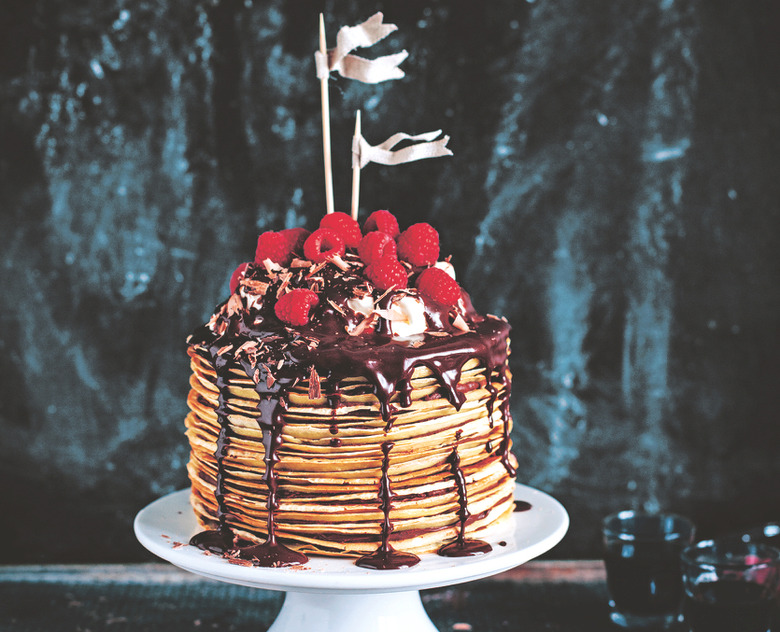 We may receive a commission on purchases made from links.
If you've been meaning to take your baking game to another level, you'll need a copy of My Sweet Kitchen by recipe developer and food photographer Linda Lomelino. Use her expert tips and techniques to create sweet towers of smooth, fluffy glory, and decorate them like a pro. Wait until a special occasion to make this chocolate orange crêpe cake, and don't be modest about accepting all the praise and cheers that come with it. 
This is a truly luxurious crêpe cake with a decadent chocolate ganache filling. The crêpes can be prepared a day ahead, wrapped in plastic, and stored in the refrigerator, so all you have to do the day of the party is assemble the cake.
Stack Up This Chocolate Orange Crêpe Cake
Wait until a special occasion to make this chocolate orange crêpe cake, and don't be modest about accepting all the praise and cheers that come with it.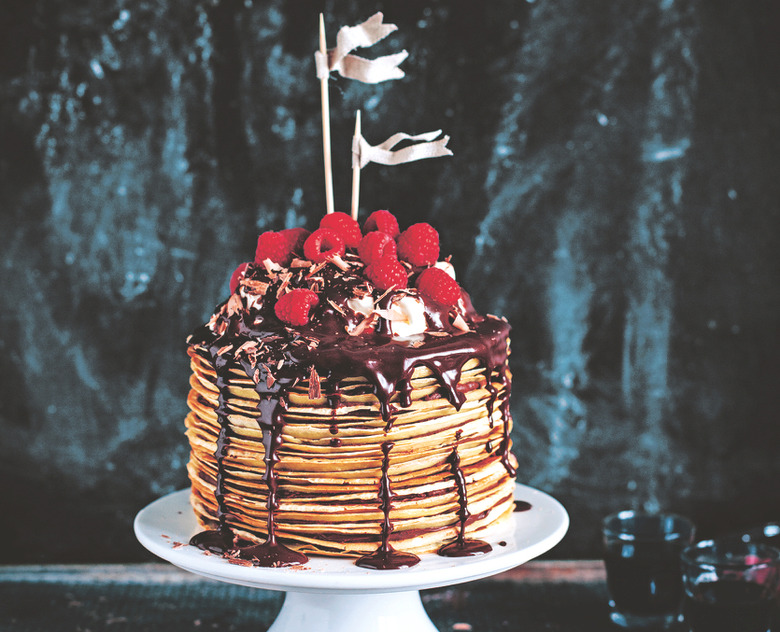 Ingredients
4 eggs
1 1/3 cups milk
1 cup water
2 1/4 cups all-purpose flour
1/4 teaspoon salt
2 tablespoons granulated sugar
Finely grated zest of 1 orange
5 1/2 tablespoons salted butter
7 ounces dark chocolate (70 percent cocoa)
3 1/2 ounces milk chocolate
1 1/4 cups whipping cream
2 tabelspoons Cointreau or other orange liqueur, or 2 tablespoons whipping cream mixed with the finely grated peel of 1 orange (both optional)
3/4 cup whipping cream
Chopped chocolate (70 percent cocoa)
1 3/4 ounces fresh raspberries (optional)
Directions
:::crêpes:::
Beat together the eggs, milk, water, flour, salt, sugar, and orange zest in a large bowl until all the clumps have dissolved. Let the mixture set at room temperature for about 30 minutes.
Melt the butter and let cool slightly.
Beat the butter into the batter. Heat a crêpe pan or small frying pan (6 to 8 inches in diameter) over high heat. Add a little butter to the pan. When the butter stops sizzling, the pan is hot enough.
Lower the heat to medium and spoon about 2 tablespoons of the batter onto the hot pan. Quickly lift and tilt the pan in a circle to spread the batter evenly over the entire bottom of the pan to make thin crêpes. Stack them on a plate, layering waxed paper between each crêpe so it will be easier to separate them later. Let the crêpes cool completely.
:::ganache:::
Chop the dark chocolate and milk choco­late into fine pieces and put in a medium heatproof bowl.
In a saucepan, carefully heat the whip­ping cream and Cointreau. Remove the pan from the heat just before the liquid reaches its boiling point. Pour the cream over the chocolate pieces and let stand for a few seconds. Stir until the chocolate melts completely and the mixture be-comes a shiny cream.
Pour ¼ cup plus 2 tablespoons of the chocolate and cream mixture into a separate small bowl and set aside (this ganache will be used for decorating the cake). Let both bowls of ganache cool at room tempera­ture until it is a spreadable consistency.
:::cake:::
Lay a crêpe on a cake platter and spread with a thin layer of chocolate ganache (the ganache not reserved for decorating). Repeat layering crêpes and ganache until you have used up all the crêpes and the bowl of chocolate ganache. Refrigerate for about 1 hour to allow the cake to firm up.
Whip the cream and spoon or pipe it on top of the cake.
Heat the remaining ganache carefully in the microwave until it has melted slightly and is runny. (Alternatively, warm it in a heatproof bowl or saucepan on top of a double boiler with water simmering in the bottom pot.) Make sure the sauce does not get too warm, or it will be too thin to coat the cake. Pour the sauce over the cake and then decorate the cake with chopped chocolate and raspberries.