Onion And Chili-Crusted Short Ribs Recipe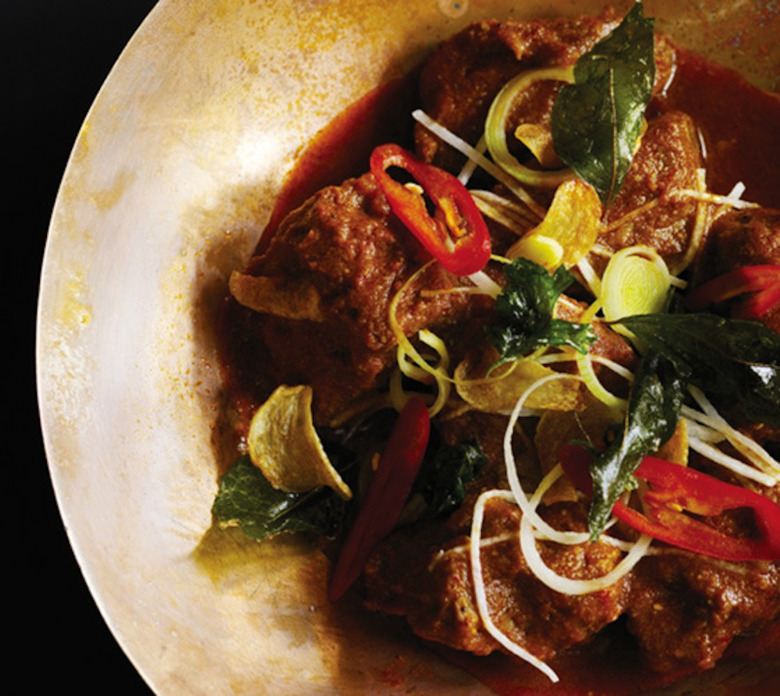 Photo: Spice Market NY
Jean-Georges Vongerichten's NYC celeb-sighting spot Spice Market is known for its bold fusion cuisine. Here, fiery chilies spice up a traditional hearty braise over Asian-seasoned egg noodles to produce a warming fall dish that's truly a citizen of the world.
Make sure you caramelize the onions thoroughly, that's what makes the crust taste so good. This is also a great dish for freezing — the night you come home and think there's nothing to eat is the night you feast on spicy, fall-off-the-bone short ribs.
Onion And Chili-Crusted Short Ribs Recipe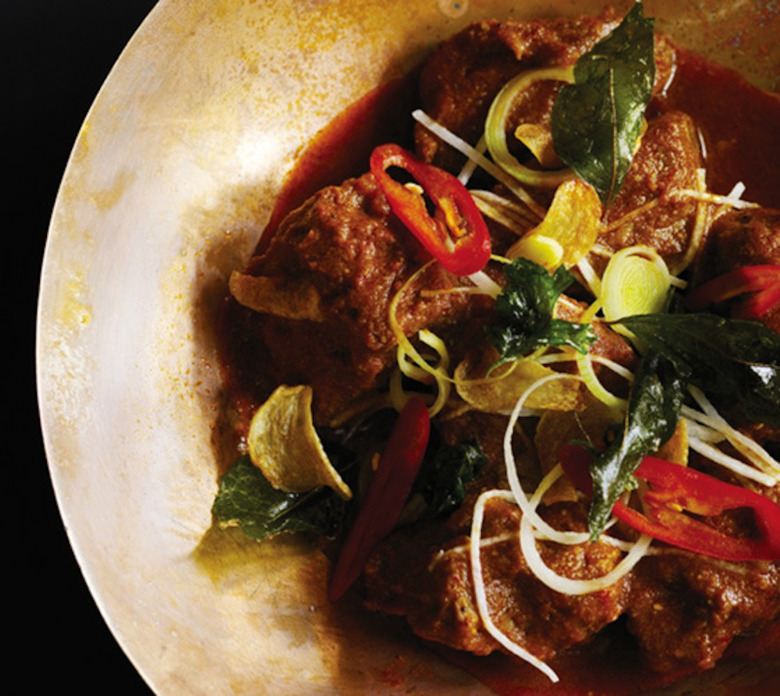 Ingredients
4 10-ounce bone-in short ribs
5 onions
1 whole carrot
1 whole stalk celery
1 1/2 finger chilis
1 quart chicken stock
Grapeseed oil
1 pound egg noodles
1 finger chili
2 cups pea shoots
4 scallions
1 teaspoon sesame oil
1 tablespoon soy sauce
Directions
Heat a large round pot until smoking and coat liberally with oil. Add the thinly sliced onion and the chilis, season with salt, and cook until very deeply caramelized. 
Place the carrot, celery and halved onion in the bottom of a roasting pan.
Put half of the caramelized onions on top of vegetables. Season ribs with salt and pepper and arrange on top of vegetables.
Bring stock to a boil separately and then pour enough into the roasting pan to cover the ribs by 2 inches.
Cover pan with 2 sheets of foil and cook in a 325°F oven until ribs are completely tender, at least 2 hours. 
Remove ribs from pan, strain cooking liquid, let cool and remove fat. Reserve. 
Cut the top part of each rib off of bone and discard the remainder.
Put a generous coating of the remaining caramelized onions on top of the ribs in a small pot with enough of the reduced and strained broth to cover the ribs halfway. 
Bring to a boil, and then put into oven at 400°F and baste frequently. Cook until ribs are hot and soft throughout. 
Season broth delicately with soy and a few drops of sesame oil. Remove ribs and set aside.
Add egg noodles, scallions, chilis and pea shoots to the broth. 
Divide noodle mixture into 4 large bowls, put a rib on top of each, and serve immediately.