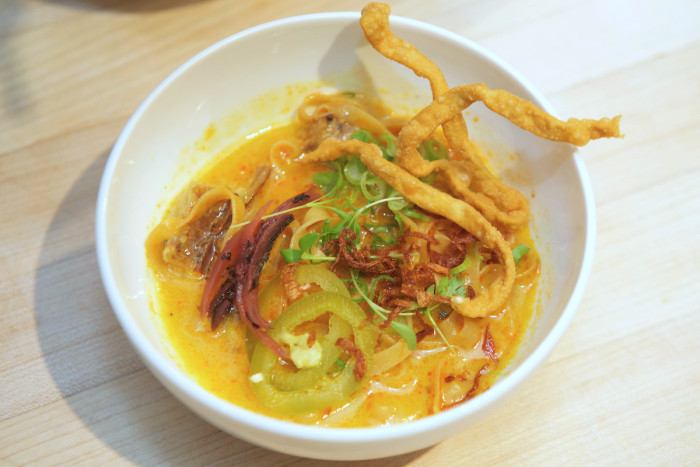 Chef Thomas Pisha-Duffly and his team at the Honey Paw in Portland, Maine, won the title of the James Beard Foundation's "Lamb Jam Master" for this smoked lamb khao soi with egg noodles, Burmese coconut curry, fermented mustard greens, crispy noodles and lime at the American Lamb Board finale in NYC. National food editors tasted the winning dishes from Seattle, Austin, Boston, San Francisco and Washington, D.C., and dubbed the Honey Paw's the top dish.

Try it at home for an impressive, hearty dish that's a far cry from your average noodle soup.
Ingredients
2

pounds

American lamb shoulder, whole

2

quarts

lamb stock or chicken stock

1

tablespoon

chopped ginger

1

tablespoon

chopped shallot

1

tablespoon

chopped garlic

1

teaspoon

turmeric

1

teaspoon

shrimp paste (Belacan)

1

tablespoon

thinly sliced lemongrass

1

cup

fish sauce

1/2

cup

tamarind pulp

1

cup

palm sugar

1

tablespoon

chopped Thai bird chili

2

cups

coconut milk

fresh or dried egg noodles, to serve
Directions
For the lamb
Smoke lamb shoulder two hours, or sear all over until golden brown.

In a large pot, sweat the ginger, garlic, lemongrass, shallot and shrimp paste until brown and soft, add lamb into the pot, and cover with stock and water if needed. Heat to a boil and drop to a low simmer.

Add tamarind, turmeric, fish sauce, palm sugar and Thai bird chilies. Cook on low for three hours until the lamb is falling off the bone.

Pull out lamb, pull off the bone, and chop into small pieces. Add back into the broth, add coconut milk, salt to taste, take off heat and reserve.

Cook some egg noodles, reserving one third uncooked for frying. Fry some of the noodles until crispy. Ladle broth over cooked noodles. Top with scallions, fermented mustard greens, fried shallots or other garnish. Top with crispy noodles and serve!