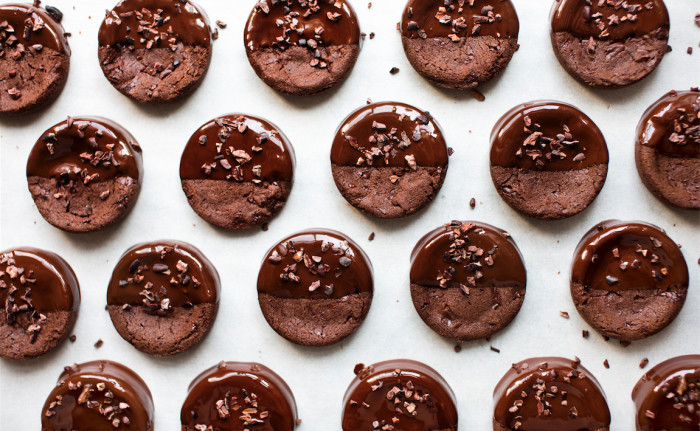 If you're going to make a foray into the art of French patisserie, you're going to need help from a very experienced, classically trained pastry chef with a killer blog. Baking master Edd Kimber's book Patisserie Made Simple is the next best thing to having your very own culinary tutor, so pick up a copy and some flour and get ready to spin French crepes. 
The chocolate sablé is the little black dress of cookies: reliable, grown-up, and with just a little hint of naughtiness! They take no time at all to make, but the rewards are bountiful. I use ½ teaspoon of sea salt in these cookies, which might seem like a lot to some people, but salt and chocolate were meant to be together — it highlights the chocolate flavor and enhances the overall taste. Just don't use table salt; you need a good flaked sea salt, such as fleur de sel. To dress up these cookies even more, I have dipped them in tempered chocolate and sprinkled them with cacao nibs, but this is optional — they are still a wonderful treat without it.
Tempering Tip: The chocolate you start with needs to be tempered itself, so make sure you are using good-quality chocolate that has been stored in a cool place. If it is streaky when you take it out of the package, it has been kept poorly and won't temper very well using the above method.
Ingredients
Sablé dough
2

cups

all-purpose flour

6

heaping tablespoons

cocoa powder

3/4

teaspoon

baking soda

1/2

teaspoon

flaked sea salt

1 3/4

sticks

unsalted butter at room temperature, diced

1/4

cup

superfine sugar

1

cup

light brown sugar

1/2

teaspoon

vanilla extract

6 1/4

ounces

dark chocolate (60 to 70 percent cocoa solids, finely chopped
Coating
9

ounces

dark chocolate (60 to 70 percent cocoa solids), tempered
Directions
For the tempering chocolate
Put three-quarters of the chocolate in a heatproof bowl set over a pan of gently simmering water, making sure the bottom of the bowl doesn't touch the water. By keeping the water at a very low simmer, the chocolate melts slowly, which makes it easier to temper.

Using a probe instant-read thermometer, melt the chocolate slowly, stirring regularly, until it reaches 122 to 131°F for dark chocolate or 113°F for milk and white chocolate. Remove the bowl from the heat and add the remaining chocolate, stirring constantly until the chocolate has melted and it has lowered in temperature to 82.4 to 84.2°F for dark chocolate or 80.6 to 82.4°F for milk and white chocolate.

Return the bowl to the heat and, stirring constantly, heat it up for 1 minute or until the temperature of the chocolate has increased to 87.8 to 89.6°F for dark chocolate or 82.4 to 84.2°F for milk and white chocolate — this is what is known as the chocolate's "working temperature."

The chocolate should now be tempered. To test, dip a knife into the chocolate and allow the excess to drip off and set onto a piece of parchment paper. If, after 2 minutes, it has set with no streaks showing, the chocolate has successfully been tempered; if it is streaky, you will need to start again.
For the sablés
Sift the flour, cocoa powder, and baking soda into a medium bowl and add the sea salt, then stir together. Let sit.

Put the butter in large mixing bowl and, using an electric mixer, beat until smooth and light. Add the sugars and vanilla extract, and beat together for 2 minutes until smooth. Add the dry ingredients to the bowl and mix together until you have a mixture that looks sandy (which is what "sablé" means in English), add the chocolate and mix to combine. The final dough should look almost like soil; it should not have formed into one large ball of dough. This is the key to getting the correct texture; if the dough is mixed for too long, the cookies will be tough.

Transfer the mixture to a countertop and gently press together to form a uniform dough. Divide in half and roll into two logs, 1½ inches thick. Wrap in plastic wrap and put them in the refrigerator to chill for 3 hours or until firm. (At this point you can freeze the dough for baking at a later date, or do as I do and bake one half of the dough and freeze the second.)

Preheat the oven to 350°F and line three baking sheets with parchment paper. Remove the dough from the refrigerator, and using a thin, sharp knife, cut into rounds about 3/8 inch thick. Put the cookies onto the baking sheets, leaving ¾ inch between each one. Bake for 10 to 12 minutes until set around the outside but still soft in the center. Leave the cookies to cool on the sheets for 10 minutes, then transfer to a wire rack to cool completely.

Line a baking sheet with parchment paper. Once the cookies are cool, dip each one halfway into the tempered chocolate, allowing the excess to drip off. Put onto the prepared sheet and sprinkle with a few cacao nibs before allowing the chocolate to set fully at room temperature.

The cookies will keep for up to one week stored in an airtight container.