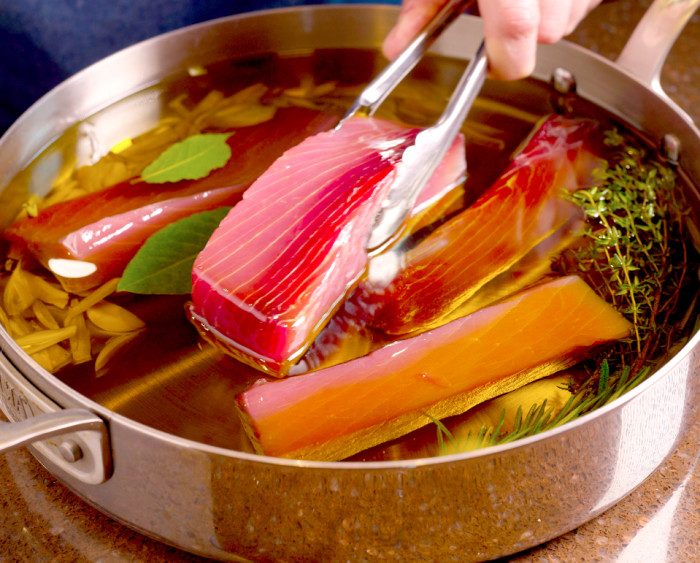 Some of our favorite cookbooks comes from the great minds at the Culinary Institute of America. Their new book, Mediterranean Cooking, is no exception. Take a break from the grill when it comes to tuna and poach in olive oil for an incredibly moist, flavorful and healthy addition to salads.
This is one of my favorite ways to prepare tuna for a Salade Niçoise but you can also pair it with other accompaniments for a really nice meal. I suggest serving the tuna confit along with some haricots verts in garlic on crispy polenta.
This olive-oil poach works best with denser, high-activity fish, such as swordfish or other deep-water fish. It really infuses a lot of flavor into the fish while gently cooking it. For the best tuna salad you have ever had, poach fresh tuna and use it instead of canned.
Ingredients
4

cups

olive oil

2

thyme sprigs

2

rosemary sprigs

4

bay leaves, preferably fresh

1

head

garlic, peeled

1 1/2

pounds

tuna fillet
Directions
In a small saucepan, combine the olive oil with the thyme, rosemary, bay leaves, and garlic and heat to 200˚F for 10 minutes.
Cool the oil mixture and refrigerate overnight.
The following day, remove and discard the thyme, rosemary, and bay leaves and pour the olive oil into a heavy-bottomed pot. Place the tuna in the oil so that it is totally submerged.
Heat the oil to 160˚F and hold the temperature between 160˚F and 180˚F for 5 minutes. The tuna is now ready to serve and should still be pink inside.
Serve the tuna warm or cold.
Chef's Note: If you want to re-use the oil, bring it to a simmer then cool and refrigerate it. It can be used again for poaching, or even in a vinaigrette for a Niçoise salad.
More tuna recipes on Food Republic: