Oktoberfest Pork Shank Recipe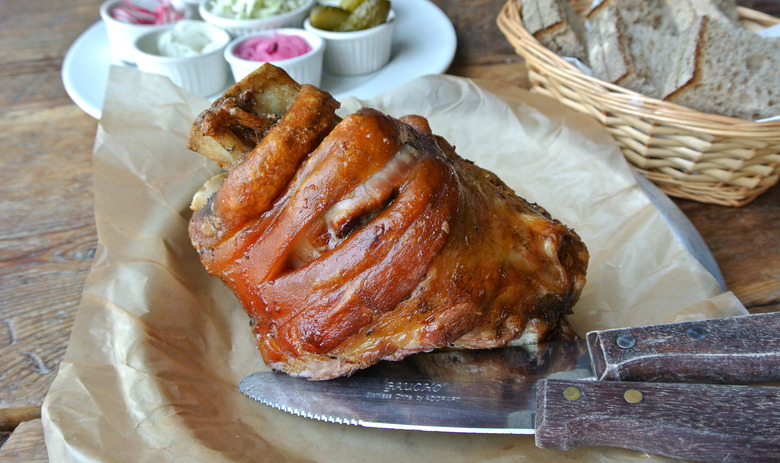 As we search for the greatest Oktoberfest recipes, certain things make themselves obvious. Pork must be involved in some form, as must beer. So who better to ask than the chef at a restaurant called Pilsener Haus? Chef Thomas Ferlesch schooled us on the basic but essential German recipe known as Schweinshaxen.
"Our Pilsener Haus menu is very traditional, the kind of biergarten cuisine I've known since childhood. I know the Schweinshaxen from a very famous 600-seat biergarten in Vienna, where I studied," he reminsiced. "They'd serve hundreds of them during Oktoberfest; the waiters would debone the shank tableside, holding it with a cloth napkin, in just a few quick movements."
Schweinshaxen, served with country bread and pickled sides, is the kind of hearty fare that pairs well with the amber, malty, more full-bodied Oktoberfest beers.
Oktoberfest Pork Shank Recipe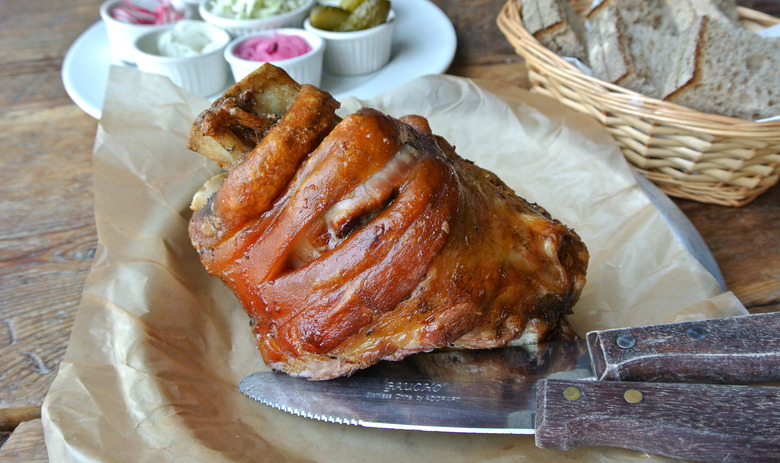 Ingredients
2-3 pounds pork shank
2 tablespoons caraway seeds
1/2 head garlic (about six cloves)
Salt and pepper
Directions
Boil hind pork shank in a pot of water with caraway seeds, garlic, salt and pepper, covered for one hour. Use just enough water to submerge the shank in the pot you are using, and season water sufficiently so you don't need to season the meat again after cooking. Keep this water for stock.
After one hour, let shank cool down to room temperature.
Cut skin horizontally, approximately 1/2 inch apart, and roast at 375 degrees for 90 minutes. Use some of the stock in the bottom of the pan. You can baste, but not too much to detract from the crispiness of skin in next step. 
Raise temperature to 425 degrees and crisp skin approximately 20 minutes.
Serve traditionally on a wooden platter, warm (not hot), with kraut salad, country bread, pickles, horseradish and Bavarian mustard.
Sausage And Sauerkraut Fritter Recipe
Edi & The Wolf's Schnitzel Burger
Fresh Herbed Quark Spaetzle