Oh, Sweet! Brûléed Citrus Fruits With Fresh Herbs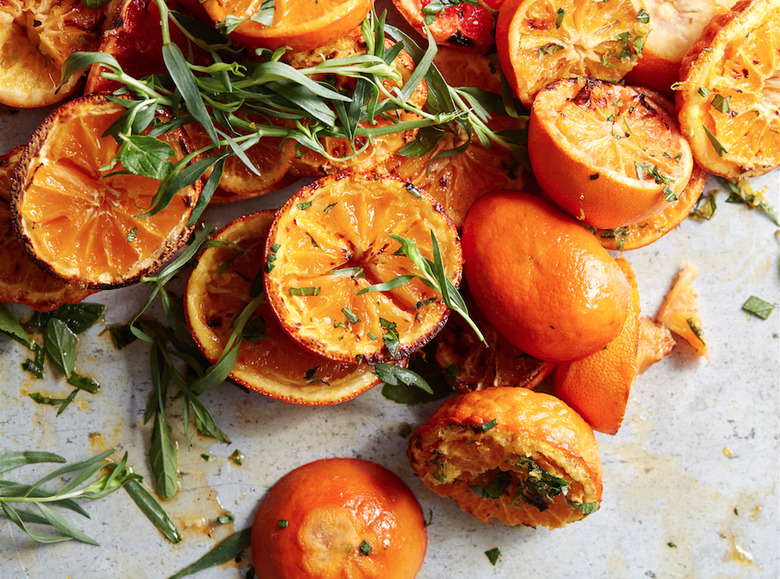 We may receive a commission on purchases made from links.
Food writer and photographer Leela Cyd has a new cookbook out that will make you want to group-text five of your closest friends, "Dinner at my place!" Every recipe, from the tried and true to the brand-new, has a certain signature twist that makes each dish unique. Pick a page and get crackin'.
Baking citrus is new to me, but once I started, I could hardly stop — the sweet/tart concentrated flavors are addictive! As a kid I loved eating Starburst, WarHeads, and all manner of sour sugar candies (maybe I was a masochist, but I loved the hair-bending pain of the sour flavor). So here I've come full circle, but in a much healthier fashion. These aromatic broiled citrus are sweet, a touch tangy, and verdant with the smattering of fresh mint and tarragon. This simple recipe truly is greater than the sum of its parts.
Oh, Sweet! Brûléed Citrus Fruits With Fresh Herbs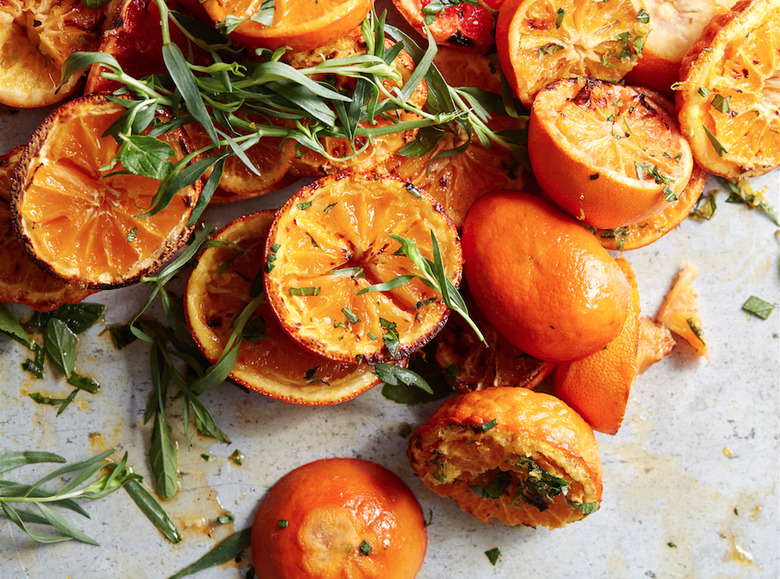 Ingredients
2 grapefruits
2 Blood oranges
2 oranges
2 tangerines
1/4 cup turbinado sugar
1 tablespoon grated lemon zest
1/2 teaspoon Taha's Vanilla sea salt or fine sea salt
2 sprigs fresh tarragon
1/2 cup fresh mint leaves
Directions
Preheat the oven to 400°F. Line a baking sheet with parchment paper.
Halve each piece of fruit along the equator of the fruit. Slice a tiny bit off the bottom of each fruit, so they will sit upright. With a sharp paring knife, score along the perimeter, where the flesh and membrane meet. Score each segment along the white membrane casing as well, so each segment of fruit will be easy to scoop out after roasting.
Place the fruit cut-side up on the prepared baking sheet and bake for about 10 minutes, to allow the flavors to concentrate. Remove from the oven and turn the broiler to high. Evenly sprinkle the turbinado sugar over the fruit. (Distribute the sugar as evenly as you can, using a little more on the grapefruits, a little less on the smallest tangerines.) Broil for 2 to 3 minutes, until a little char is visible and the sugar has melted.
In a small bowl, combine the lemon zest, vanilla salt, and chopped herbs. Just before serving the broiled citrus, top each with a little of the herb mixture.