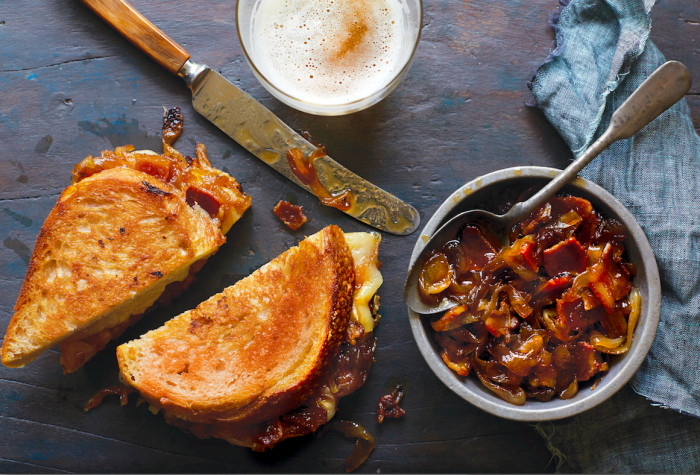 While it may be one of the most wonderful food and booze pairings in the natural world, leave bourbon and bacon cookbooks to the highly experienced folks at Southern Living. Author Morgan Murphy says the meaty tome is not a diet book, and that's an understatement. As long as this wonderful collection is in your kitchen, you may never diet again.
The book we wrote is called Bourbon AND Bacon, so naturally we unite these two in holy matrimony whenever possible, like for this very special marmalade. Instead of a BLT, think B-O-BLT. That would be onions, intensely caramelized ones. It goes nicely on a hamburger, steak, ribs and more.
Reprinted with permission from Southern Living Bourbon & Bacon
Ingredients
4

slices

hickory-smoked bacon, chopped

5 1/2

cups

thin sweet onion strips

1/2

cup

sugar

1/4

cup

apple cider vinegar

2

tablespoons

bourbon

pinch of

dried crushed red pepper

1 1/2

teaspoons

fresh thyme, chopped

1/4

teaspoon

salt
Directions
Cook bacon in a large skillet over medium-high heat 6 to 8 minutes or until crisp; remove bacon, and drain on paper towels, reserving 2 tablespoons drippings in skillet.
Add onions to skillet; cook, stirring often, over medium heat 15 minutes or until onions are caramel colored.
Add sugar, stirring to dissolve.
Stir in vinegar and next 4 ingredients.
Cook 5 minutes or until liquid is consistency of syrup.
Add bacon; cook, stirring occasionally, 15 minutes or until thickened and consistency of thin marmalade.
Find more marmalade on Food Republic: