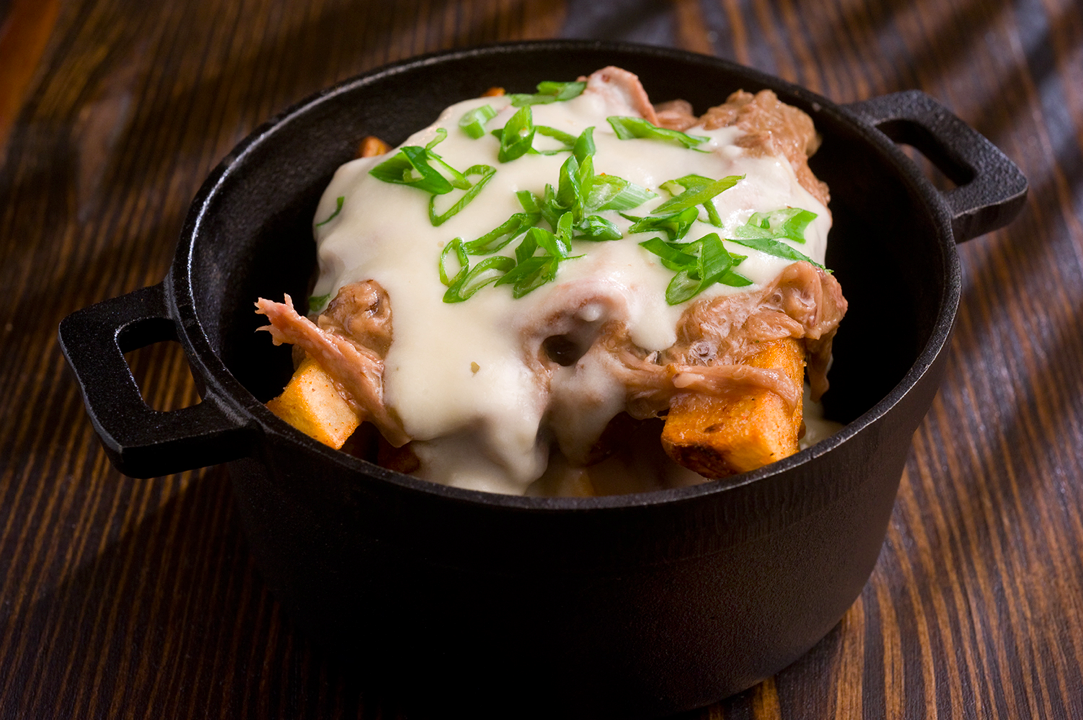 There's no shortage of great bar snacks during Craft Beer & Spirits Week, or we'd never make it through. We borrowed a brisket poutine recipe from Miami Beach gastropub Tongue & Cheek (home of the $2 happy hour beef cheek slider) that pairs just as perfectly with an expertly crafted whiskey cocktail as it does with a huge hoppy beer. Says Chef Jamie DeRosa:
"Who doesn't like a good cheese fry dish? It's been on the menu since we first opened and now we're offering it for brunch. Most guests add it to their beef cheek burger. Pair it with a Goose Island Honker's Ale or one of our Cracker Jack milkshakes and it's naptime."
Like we said, they take care of their diners. Start the brisket in the morning so it's ready in time for happy hour.
Ingredients
Pastrami Spice
2

teaspoons

black mustard seeds

2

teaspoons

yellow mustard seeds

2

teaspoons

coriander seeds

4

teaspoons

onion powder

6

teaspoons

celery salt

5

teaspoons

smoked paprika
Cheese Sauce
1

quart

heavy cream

1

quart

half n' half

1

quart

milk

1

onion, halved

1

garlic clove

1

bay leaf

1/4

teaspoon

nutmeg

2

cups

aged white cheddar, grated
French Fries
10

russet potatoes, peeled and cut into French fries

8

quarts

water

1

cap

full white vinegar

8

quarts

vegetable oil
Brisket
5

pounds

brisket

1

tablespoon

garlic powder

1

tablespoon

onion powder

1

tablespoon

paprika

1

tablespoon

salt

1

tablespoon

pepper

2

cups

chicken stock
Directions
For the cheese sauce:
In a medium sauce pot take the cream, half n' half and milk and bring to a simmer.
Add the onion, garlic, bay leaf and nutmeg and cook for about 20 minutes.
Turn the heat off and remove from the stove. Add the grated cheese slowly with a whisk until completely incorporated.
For the French fries:
Heat vegetable oil to 350°F and boil a large pot of water with vinegar.
Boil French fries until almost fork tender, then remove and let cool.
Cook fries in vegetable oil for 4 minutes, let cool.
Cook fries again for 4 more minutes, or until crispy.
For the brisket:
Preheat oven to 300°F.
Mix all dry ingredients and rub all over brisket.
Put brisket in baking dish and add chicken stock.
Cook for 5 hours until fork-tender.
Allow to sit for 20 minutes, then shred with forks or fingers (you'll have plenty of meat left over for future poutine).
For assembly:
Layer pastrami-spiced fries, pulled brisket and cheese sauce in a serving dish.
Repeat until the dish is full and serve immediately.
More great bar snacks on Food Republic: