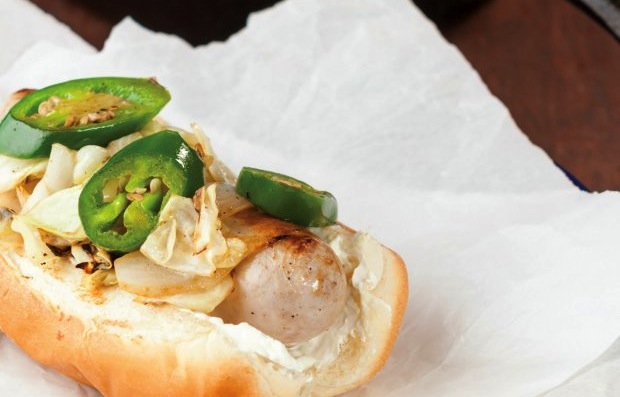 Give your tubesteak a little flair…or a ton, with food writer Russell van Kraayenburg's ultimate hot dog book, Haute Dogs. Wherever you hail from, there's a hot dog that speaks to you. Not literally, that would be terrible. But believe us, these franks have some serious soul. You may not be familiar with the Seattle Dog. Let us introduce you.
This strange Seattle creation likely came to be in the 1980's or 90's when modern variations and the idea of haute dogs began influencing recipes. Not only are these dogs almost impossible to find outside of Seattle, they can be tricky to find within Seattle as well. That hasn't stopped this deliciously spicy and creamy dog from collecting a cult following. Loaded with veggies, jalapeños, sriracha and cream cheese, these dogs are all about thinking outside of the bun.
Ingredients
oil, for sauteeing

white onions, finely chopped

jalapeños, sliced

cabbage, chopped

classic hot dog bun

polish sausage or hot dog

cream cheese, room temperature

Sriracha
Directions
Warm a splash of oil in a skillet over medium heat.
Add onions, jalapeños and cabbage and cook, stirring, until they begin to soften and brown, about 10 minutes.
Get out a classic bun.
Slice a Polish sausage or hot dog in half and grill it.
Spread enough cream cheese on the inside of the bun to coat and place the sausage on top.
Top with a handful of onions, jalapeños and cabbage.
Add a few drops of sriracha on top.
Chef's Note: Let cream cheese come to room temperature before spreading so that it glides smoothly onto the bun.
Find more hot dogs on Food Republic: