Oaxacan Grilled Pork Fajitas Recipe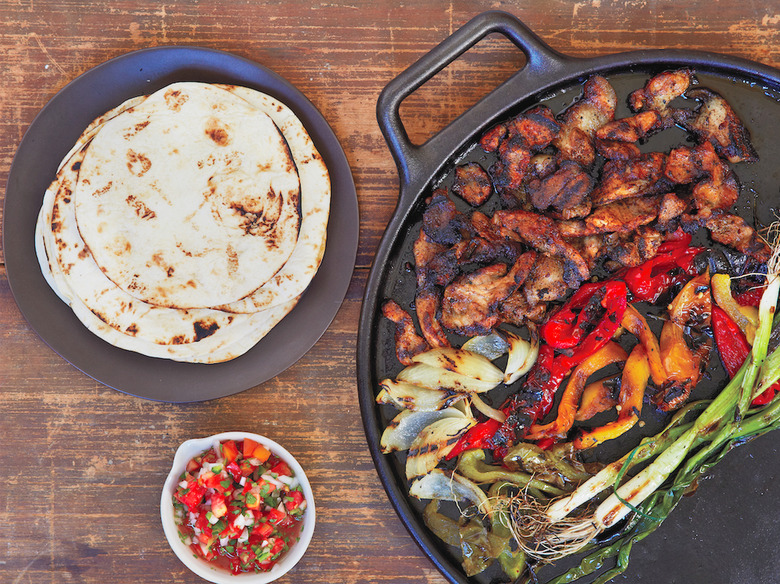 We may receive a commission on purchases made from links.
You can trust Steven Raichlen, author of the best-selling Barbecue! Bible, when it comes to making great dinners with all the confidence in the world. His newest book, Man Made Meals, is your no-nonsense highway to something meaty, preferably grilled, and easy enough to make on a weeknight. Itching to update your fajita routine? Pork is here to help. 
It's hard to remember American cuisine without fajitas, but there was a time when you had to travel to Texas (specifically to Ninfa's restaurant in Houston) to try them. Who knew that a cheap cut of beef — the skirt steak — would become a popular party food? (Fajita means "little girdle" in Spanish.) Here's a pork version, fragrant with cinnamon, orange and ancho chiles.
In Oaxaca, they use thinly sliced pork shoulder, which is loaded with fat, so it stays moist on the grill. If you have the patience, thinly slice boneless pork shoulder (we're talking poker chip thin here), or bribe your butcher to do it. Otherwise, use pork loin or tenderloin thinly sliced across the grain. It helps if you partially freeze it first. Crema is Mexican sour cream. (It's a little more sour and pungent than American sour cream.) Look for it in Hispanic markets. Pure powdered ancho or pasilla chiles are available in some supermarkets, but if you can't find them, substitute regular pure chile powder.
Oaxacan Grilled Pork Fajitas Recipe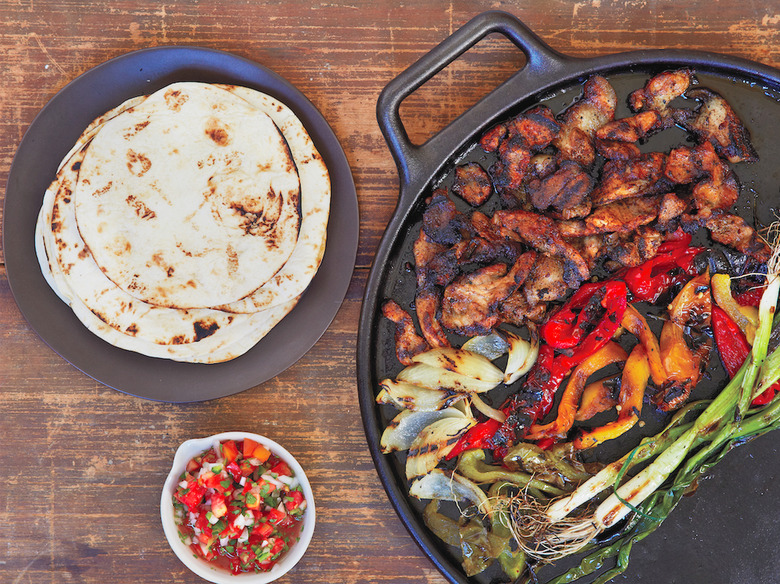 Ingredients
2 pounds boneless pork shoulder
1/3 cup pure ancho or pasilla chile powder
1/4 cup distilled white vinegar
1/4 cup fresh orange juice
4 cloves garlic
1 teaspoon coarse salt (kosher or sea)
1 teaspoon freshly ground black pepper
1 teaspoon dried oregano
1/2 teaspoon ground cumin
1/2 teaspoon ground cinnamon
2 poblano peppers
1 red bell pepper
1 yellow bell pepper
1 large sweet onion
1 bunch scallions
12 small (7-inch) flour tortillas
2 cups Pico de gallo
1 cup sour cream or Mexican crema
1 bunch fresh cilantro
2 limes
Directions
Prepare the pork and marinade: place the pork in a nonreactive baking pan.
Place the chile powder, vinegar, orange juice, garlic, salt, black pepper, oregano, cumin and cinnamon in a blender and blend until smooth.
Pour the marinade over the pork, turning the pieces to coat well. Let the pork marinate, covered, in the refrigerator for 1 to 4 hours.
Grill the vegetables: set up the grill for direct grilling and preheat it to high. When ready to grill, brush and oil the grill grate.
Place the poblano peppers and bell peppers on the grate and grill until darkly browned on all sides, turning with tongs, about 15 minutes.
Transfer the grilled peppers to a cutting board and let them cool.
Meanwhile, grill the onion wedges and scallions until browned, 2 to 4 minutes per side, turning with tongs.
When the peppers are cool, stem and seed them.
Cut the peppers and onions into thin (1/2-inch) strips.
Cut the scallions into 2-inch pieces.
The vegetables can be grilled up to 30 minutes ahead. If grilling ahead on a charcoal grill, you may need to add fresh coals.
Just before serving, heat the skillet in a 400°F oven for 10 minutes. (Or preheat the skillet on the grill.)
Warm the tortillas (10 to 15 seconds per side), and place in a cloth-lined basket.
Place the salsa, sour cream and cilantro in separate small bowls with serving spoons.
Just before serving, drain the pork slices well.
Arrange on the hot grate and grill them until browned and cooked through, 2 minutes per side.
Transfer the grilled pork to a cutting board and cut it into thin strips. You can serve the fajita ingredients hot off the grill.
Or, for the sizzling platter effect, arrange the slivered pork and the vegetables in the preheated skillet and place the skillet on a trivet.
Use tongs to load up the tortillas with sliced pork and grilled veggies.
Top the fajitas with salsa, sour cream and cilantro, and serve with lime wedges for squeezing.
Don't have access to a grill? Follow the above directions through Step 3.
While the pork is marinating, roast the peppers, onion wedges and scallions on a baking sheet in a preheated 450°F oven until deeply browned on all sides, 5 to 10 minutes per side. You'll have to turn the peppers from time to time.
Once browned, cut the vegetables as described in Steps 8-10.
Warm the tortillas as described in Steps 12-13.
Drain and cook the pork in a large cast-iron skillet over medium-high heat, 2 minutes per side.
Cut into thin strips and serve as described in Step 17.
Mexican Food Detour: Try This Lamb Fajitas Recipe
Huitlacoche Tortilla Pie Recipe
Enchiladas Suizas Recipe With Chicken