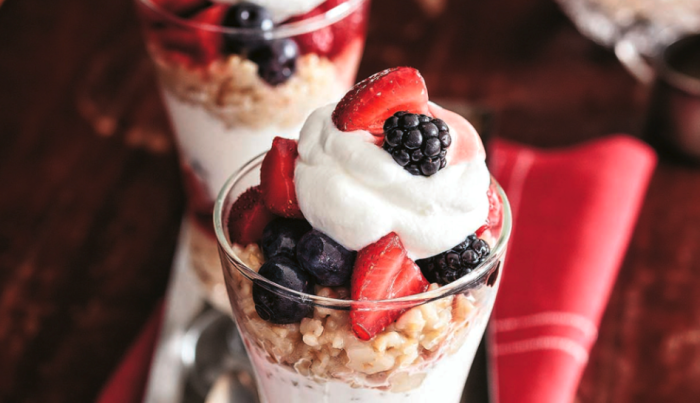 This cookbook was inspired by David Simon's award-winning HBO series, Treme, and no offense to Breaking Bad or anything, but we'd rather cook recipes from this show, thanks. Learn simple homestyle recipes for your favorite New Orleans dishes. You'll never look at oatmeal the same way again.
A common thing on menus these days is mixing up expectations — revers­ing sweet and savory recipes, or taking a breakfast classic and making it into a dinner dish. While everyone else was doing foie gras French toast or truffled bread pudding, I wanted to come up with a different way to use plain old oatmeal. It's a perfect brunch dish.
You'll notice a lot of hints about timing in this recipe; read them carefully, as you want the berries macerated enough to be supremely juicy and flavor­ful, but not broken down too much or soggy, and a beautiful peak of soft whipped cream.
Ingredients
6

cups

fresh blueberries, blackberries, strawberries or a combination

2

tablespoons

granulated sugar

6

tablespoons

fruit liqueur such as pear brandy, elderflower liqueur or orange-flavored liqueur

1

cup

uncooked oatmeal, preferably steel-cut

5

tablespoons

unsalted butter

1/4

cup

loosely packed light or dark brown sugar
Chantilly cream
4

cups

heavy (whipping) cream

2

tablespoons

sour cream

2

tablespoons

orange-flavored liqueur

1

teaspoon

vanilla extract
Directions
About 2 hours before assembling the parfaits for serving, if using strawberries, stem them and cut into pieces about the same size as the other berries. Put all the berries in a medium glass, ceramic or stainless-steel bowl. In a small bowl, combine the granulated sugar and liqueur and stir until the sugar is completely dissolved. Add the sweetened liqueur to the berries and stir gently with a rubber spatula until the berries are well coated with the syrup, being careful not to break up the berries. Cover with plas­tic wrap and refrigerate until ready to serve, stirring very gently about every 45 minutes with the spatula.
Meanwhile, cook the oatmeal according to the package directions. Then cover and set aside at room temperature until ready to serve.
Just before assembling the parfaits, gently rewarm the oatmeal over low heat; thin with a little water, if needed. (It shouldn't be too hot, or it will melt the Chantilly cream.) Add the butter and brown sugar and stir to mix well. Cover to keep warm and set aside.
Also just before assembling, make the cream: In a large bowl, combine the heavy cream, sour cream, liqueur and vanilla. Whisking by hand or using an electric mixer set on medium speed, beat the mixture just until soft peaks form, 5 to 10 minutes if beating by hand or about 3 minutes if using an electric mixer.
To assemble the parfaits, layer in each glass 2 tablespoons oatmeal, then 2 tablespoons drained berries, then 2 tablespoons Chantilly cream, then another 2 tablespoons oatmeal. Top with more berries, dividing them evenly, and end with 1 tablespoon Chantilly cream on top of parfait with a few more berries for garnish. Serve at once, with long-handled spoons.
Try out these sweet brunch recipes on Food Republic: