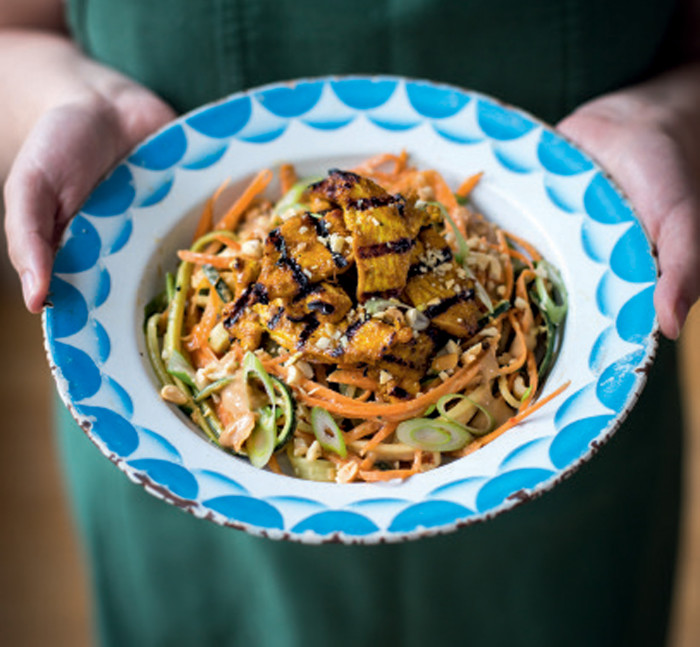 Cooking show host and clean-food enthusiast Donal Skehan has a new collection of recipes out that highlight the most flavorful parts of the healthiest foods. Using quality ingredients and simple techniques, Skehan puts his spin on classic dishes and invents his own ways to keep a great diet with lots of variety. This nutty chicken satay salad is a perfect balance between delicious and nutritious. 
As crunchy, creamy, nutty, chicken satay salad goes, this one has a lot to offer. Based on one of my favorite Asian street foods, chicken satay, it's got all the best bits — tender chicken in an aromatic peanut sauce, along with a simple crunchy salad. Mix and match the vegetables as you wish, but do choose ones that have a bite to them.
Ingredients
2

large, skinless chicken breasts (about 6 ounces), thinly sliced

1

tablespoon

turmeric

2

teaspoons

ground coriander

1

teaspoon

ground cumin

2

garlic cloves, finely chopped

Thumb-size piece

fresh ginger, finely chopped

1

teaspoon

sugar

1

teaspoon

canola or vegetable oil

1

zucchini

1

cucumber

2

large carrots

5

scallions, finely sliced on the diagonal

Handful

salted peanuts, roughly chopped
Peanut Satay Sauce
1

teaspoon

sunflower oil

1

garlic clove, very finely chopped

Small thumb-size piece

fresh ginger, peeled and very finely chopped

1

small red chili pepper, deseeded and finely chopped

3/4

cup

light coconut milk

juice of 1 lime

3

tablespoons

crunchy peanut butter

1/2

tablespoon

dark soy sauce
Directions
For the salad
Place the sliced chicken in a large bowl with the turmeric, coriander, cumin, garlic, ginger, and sugar and toss to coat. Marinate for 30 minutes, ideally overnight, if you have time.

Heat the oil in a large frying pan over medium-high heat. Fry the chicken for 6-8 minutes, or until cooked all the way through.

To make the peanut sauce, heat the oil in a small pan, add the garlic, ginger, and chili, and fry for 30-40 seconds, stirring continuously. Add the coconut milk, lime juice, peanut butter, and soy sauce. Bring to a boil, stirring to melt the peanut butter, then reduce the heat and simmer for 2-3 minutes.

Use a vegetable peeler or spiralizer to make long strands of the zucchini, cucumber, and carrots. Place the raw veggie noodles in a large mixing bowl and add most of the scallions, saving a few to use as a garnish. Pour in the peanut sauce and toss all the ingredients together until combined. Serve with the chicken pieces and a sprinkle of chopped peanuts and the reserved scallion slices. Enjoy warm or cold.