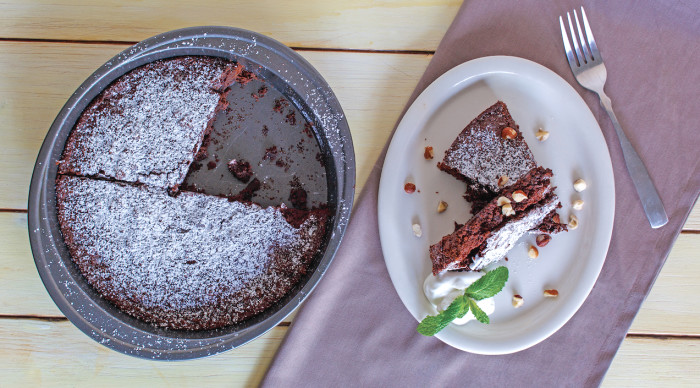 If you haven't heard of the Instant Pot, you're living under a rock! Pick up your favorite new piece of kitchen equipment and a copy of food blogger Michelle Fagone's handy book and start instant-cooking everything! This instant pot brownie cake is an instant winner!
This nutty brownie cake is a perfect slice of perfection when you are craving something chocolate. With its small stature, this recipe will fulfill that sweet tooth without leaving evidence in the morning. Cook it and you're done. Tomorrow is a new day.
Smash Cake Pan
Traditionally, a 6″ smash cake pan is what is used to cook the cake for the first birthday of a child with the perceived result that the child will smash the cake in his/her face for an excellent photo opportunity. It is also the perfect-sized pan to fit into an Instant Pot®. You can find this size of cake pan in some specialty stores and also online. If you are addicted to your Instant Pot® and want a small cake from time to time, get this pan.
Reprinted with permission from The I Love My Instant Pot Recipe Book
Ingredients
4

tablespoons

butter, room temperature

2

large eggs

1/3

cup

all-purpose flour

1/2

teaspoon

baking powder

1/3

cup

unsweetened cocoa powder

Pinch

sea salt

1/3

cup

sugar

1/3

cup

semisweet chocolate chips

1/3

cup

chopped pecans

1

cup

water

2

tablespoons

powdered sugar
Directions
For the cake
In a large bowl, whisk together butter, eggs, flour, baking powder, cocoa powder, salt, and sugar. Do not overmix. Fold in chocolate chips and pecans. Pour batter into a greased 6" cake pan. Cover pan with a piece of aluminum foil.

Pour water into the Instant Pot®. Set trivet in pot. Place cake pan on top of the trivet. Lock lid.

Press the Manual button and adjust time to 20 minutes. When timer beeps, let pressure release naturally for 5 minutes. Quick-release any additional pressure until float valve drops and then unlock lid.

Remove cake pan from the Instant Pot® and transfer to a rack to cool. Sprinkle with powdered sugar and serve.