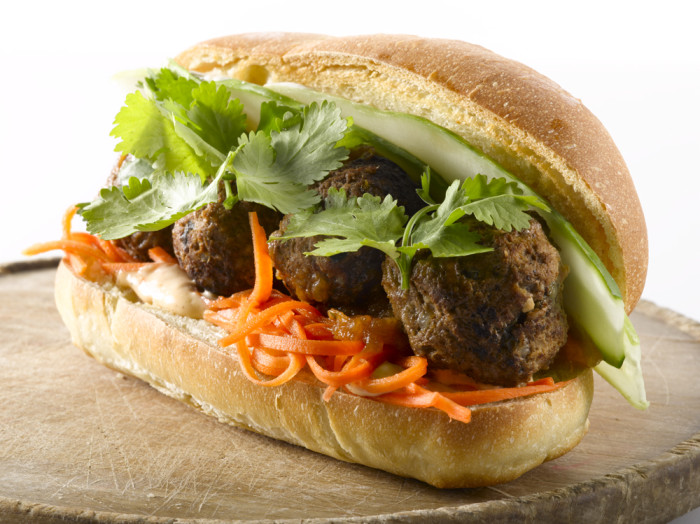 The Food Republic site has only been live for like a day, and we're already going on and on about meatballs. Oh well, can you blame us?
At least we're trying to diversify: We hit up the chefs at NYC favorite Num Pang for their recipe for a Cambodian veal meatball sandwich. It's got little in common with the Italian meatball sub. But if you're looking to expand your repertoire or just throw your taste buds a curveball, this is a great way to do it.
Ingredients
veal meatball
1

pound

ground veal

1/3

cup

jasmine rice, cooked

3

tablespoons

hoisin sauce

1/3

cup

chopped Thai basil

1

can

whole peeled tomatoes

4

tablespoons

kosher salt

3

tablespoons

sugar

1

yellow onion, quartered

1

tablespoon

black pepper

olive oil, for cooking
pickled carrots
2

large

carrots, peeled and shredded

2/3

cups

apple cider vinegar

1/3

cup

white vinegar

2/3

cups

water

1

cup

sugar

kosher salt, to taste
chili mayo
1/2

gallon

mayonnaise, Hellmann's

1/2

cup

chili sauce

1

tablespoon

sugar

1

tablespoon

salt

1

tablespoon

baguette, sandwich size, about 6 inches
sandwich assembly
1

large

cucumbers, peeled and thinly sliced, for garnish

cilantro, sprigs, for garnish
Directions
For pickled carrots: (Make one day ahead)
Place the carrots in a container and set aside.
In a large pot, over low heat, add all of the remaining ingredients and stir until they are well combined. Let cool until warm and pour over carrots. Let cool and refrigerated for 24 hours.
For meatballs:
In a large bowl, combine the ground veal, hoisin, jasmine rice, and basil, and mix until evenly combined. Sprinkle in 4 tablespoons kosher salt, and 3 tablespoons of sugar, and mix. Roll into 1-inch meatballs. Place in the fridge for 2 hours.
In large pot, over medium heat, add the olive oil and onions and cook until the onions are browned. Add the whole can of tomatoes and simmer.
In a large frying pan, over medium heat, add oil and brown all meatballs, then add them to the pot with canned tomatoes. Let meatballs and tomatoes cook for about 3 1/2 hours. Add salt and sugar to taste.
For chili mayo: Combine all ingredients and mix until evenly combined. This makes a lot, but you'll be glad you have it in the fridge for burgers and other sandwiches.
Sandwich assembly: Slice and toast baguette. Spread chili mayo on both sides of baguette, place two think slices of cucumber on mayo, top with 3 tbs of pickled carrots and cilantro. Then place 3-4 meatballs atop carrot mixture.