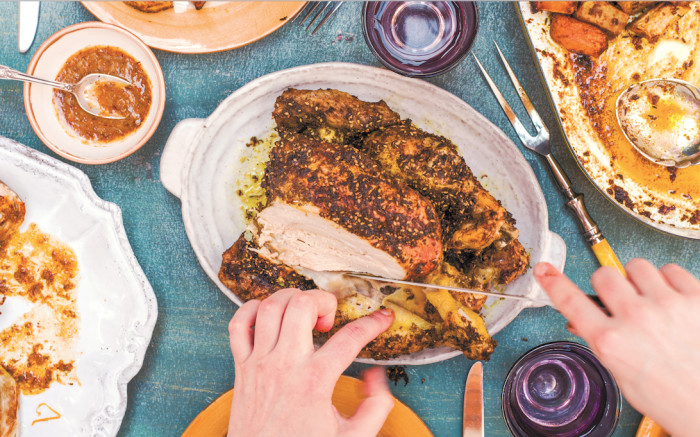 Sabrina Ghaynor, known as the "the golden girl of Persian cookery," has a new collection of recipes out for the Middle Eastern food enthusiast in us all. Part Old World, part modern cuisine, Sirocco is a beautiful representation of one of the world's most vibrant food cultures. 

Roast chicken is the ultimate comfort food, and I have been known to conjure up many different versions over the years. While I love a classic salt- and pepper-seasoned bird, I'm pretty adventurous and unafraid of throwing the contents of my spice racks and pantry at a chicken to liven it up when the mood suits. Za'atar is a staple spice blend in my house — it's so versatile, it goes with everything, and the fragrance of citrus zest really lifts this flavorsome dish. Try it: It's a winner. And don't waste the leftover fruits — juice them and add water and sugar to sweeten for a refreshing drink.
Ingredients
1

free-range chicken, about 3 pounds

3-4

tablespoons

olive oil

2

heaping tablespoons

za'atar

Finely grated zest of 2 unwaxed lemons

Finely grated zest of 2 unwaxed oranges

1

teaspoon

turmeric

1

teaspoon

ground coriander

1

teaspoon

flaky sea salt, crushed

freshly ground black pepper
Directions
For the chicken
Preheat the oven to 425°F. Line a roasting pan with parchment paper. Place the trussed bird into the prepared pan.

Put the olive oil in a small bowl, add the za'atar, citrus zests, turmeric, coriander, salt and a generous seasoning of black pepper and mix to make an evenly combined paste.

Work the paste onto the chicken, rubbing it in all over and between the breast and leg joints.

Roast the chicken for 1½ hours or until the juices run clear when the thickest part of the thigh is pierced with a skewer. Leave to rest for 10 minutes, then serve.