Now Pouring: An Addictive Coconut Matcha Smoothie Recipe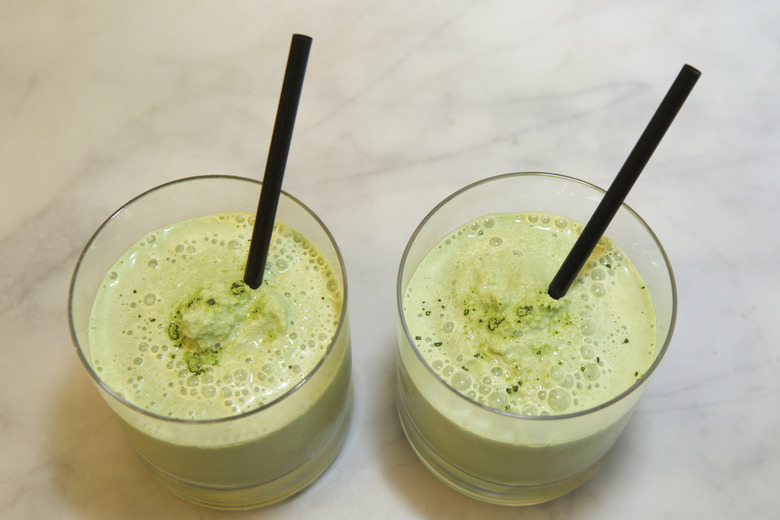 It's a lean, green, vegan machine. (Photo: Clay Williams.
Jen Yee is the pastry chef at NYC's Lafayette Grand Café and Bakery, an expansive all-day bakery and restaurant in the heart of New York's NoHo neighborhood. Yee's kitchen mastery and innovation have launched her baked goods and sweets to the top of dessert aficionados' most-wanted lists. Know what's hot right now? Jen does, and she's using it everywhere: matcha. Get ready to melt, bake and sprinkle with this bright green tea powder. Here she tells us about her coconut matcha smoothie recipe in a series of recipes using the chef's favorite ingredient.
I grew up eating green-tea ice cream, which is made with matcha, a form of powdered green tea. Since then, I've added it to lots of desserts for its earthy, grassy, almost seaweed-y flavor. People are getting into it nowadays because it's said to be healthy. You can find matcha in Asian supermarkets or tea shops, packaged in a small can. It might seem expensive, but a little goes a long way. Matcha is caffeinated, like coffee, but it gives off more of an even-keeled buzz. I love this creamy yet refreshing smoothie that can literally be made in two minutes if all your ingredients are ready and at hand and you have a sturdy blender. This recipe also happens to be vegan.
Also see: Matcha Chocolate Truffles Recipe
Now Pouring: An Addictive Coconut Matcha Smoothie Recipe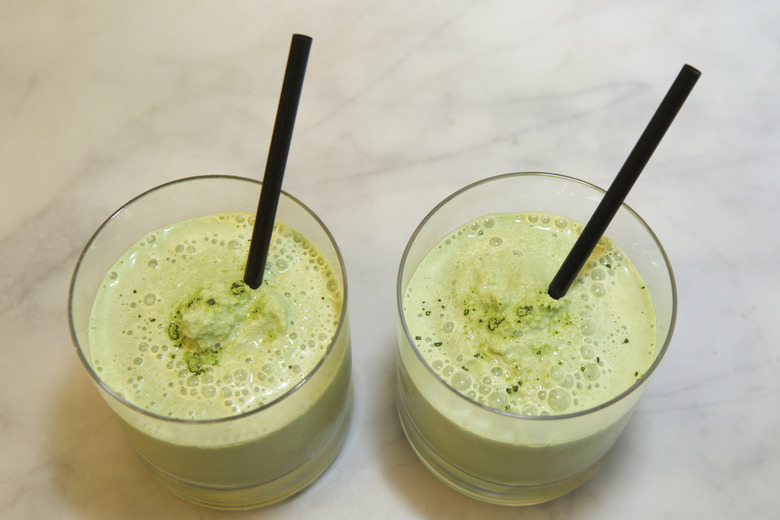 Ingredients
2 tablespoons matcha powder
2 to 4 tablespoons agave nectar
1 13.5-ounce can coconut milk (I like Chaokoh brand)
2 cups ice
Directions
Put everything in a blender and blend at medium speed, moving to high speed, until the ice is crushed and there are no streaks of matcha remaining.
Turn off and scrape down the blender once to make sure matcha is fully incorporated.
Pour into chilled glasses and serve immediately. 
Frozen Green Tea And Moonshine Cocktail
The Big Freezy: How New Orleans Came To Run On Icy, Boozy, Bottomless Daiquiris
Meet The Frozen Brancolada: A Frozen Pina Colada That Takes A Detour To Italy