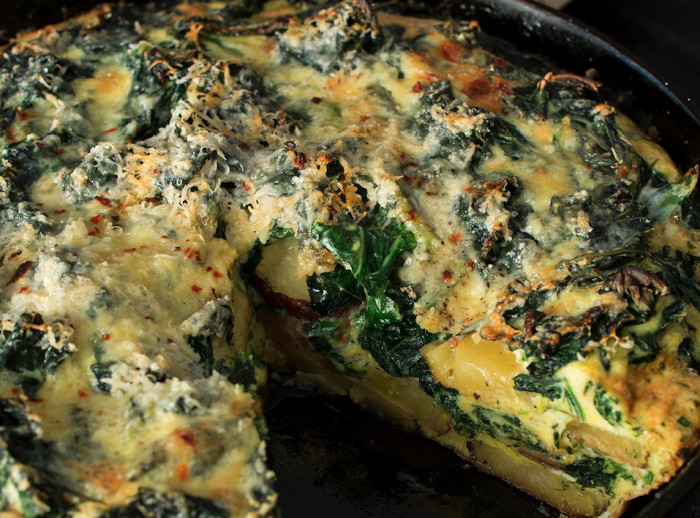 We look forward to vegetable cookbooks for months in advance, so the launch of V Is for Vegetables, from Gramercy Tavern executive chef Michael Anthony, is a big deal for us. Wave your magic wand-knife over a bounty of chef Anthony's favorite vegetables and transform produce into extraordinary dishes that will have you cooking through the colors for months. A great veggie book is worth its weight in turnips, or in this case, collards.
This especially lofty and majestic layering of greens is held together with sliced potatoes and eggs. As you can see, it is not a thin frittata! I like to make the frittata in my black cast-iron skillet; it's perfect for breakfast, lunch, or dinner. Feel free to use whatever leftover potatoes you may have on hand, or just leave them out.
Ingredients
1

bunch

collard greens, center ribs removed, leaves blanched drained and roughly chopped

Salt and pepper

12

large eggs

2

tablespoons

chopped fresh flat-leaf parsley

1

clove

garlic, minced

2

tablespoons

butter

1

pound

potatoes, roasted and sliced

1

cup

grated Parmigiano

crushed red pepper flakes
Directions
For the frittata
Preheat the oven to 325°F. Put the collards in a medium bowl and add salt and pepper. Whisk together the eggs, parsley, garlic, and additional salt and pepper in a large bowl.

Heat the butter in an ovenproof skillet over medium heat, then layer half of the roasted potatoes in the bottom of the pan.

Top with half the collards, then pour in half of the egg mixture and sprinkle with half of the cheese and pepper flakes. Repeat with the remaining potatoes, collards, eggs, and cheese, and some pepper flakes. (The egg mixture will not completely cover the greens.)

Transfer the skillet to the oven and bake until slightly soft in the center, puffy and golden brown, 30 to 40 minutes. (If the frittata is cooked through but hasn't browned, put it under the broiler for a couple of minutes.) Let the frittata cool for a few minutes before serving; it will be easier to cut.