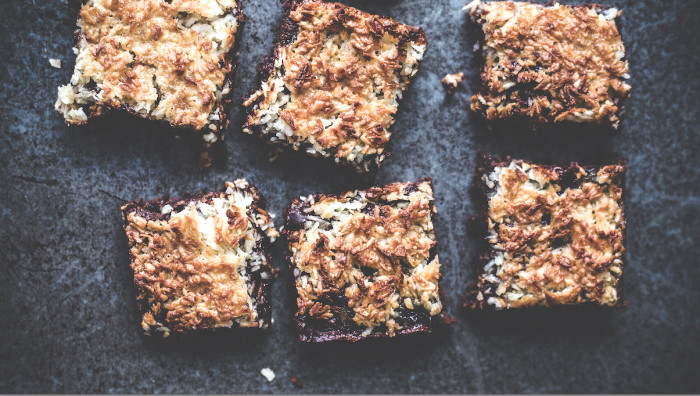 Award-winning food blogger Izy Hossack has a cookbook out that will reawaken your love of the kitchen. Read it, cook it and add some brand-new favorites to your everyday repertoire, like these coconut macaroon brownies you finish on the grill!
During the Christmas holidays there seem to be chocolate selection boxes everywhere – purple and red tins are all over the place. You can't turn up to school during December without being offered some kind of confectionery. And when a new tin is opened, a stampede of people run towards the chocolate-bringer. Their aim? To make sure they're not left with the fruit-goo or coconut-filled chocolates. Luckily, I love the coconut chocolates so I'm glad to be, um, 'burdened' with them. These brownies take inspiration from the flavors of those chocolates, translating them into fudgy brownie form.
Ingredients
1/2

cup

unsalted butter

3 1/2

ounces

dark (bittersweet) chocolate (minimum 60% cocoa solids)

1

cup

granulated sugar

2

teaspoons

vanilla extract

2

eggs, plus 1 egg white

1/2

cup

plain (all-purpose) flour

1/4

teaspoon

salt

1 1/2

cups

desiccated or shredded coconut
Directions
For the brownies
Preheat the oven to 350°F and grease an 8-inch square cake tin with butter or sunflower oil.

Melt the butter and chocolate in a medium saucepan over a low heat, stirring gently. Remove from the heat and stir in 3/4 cup of the sugar and 1 teaspoon of the vanilla extract. Beat in the whole eggs, one at a time, then stir in the flour and salt. Pour the batter into the prepared tin and bake for 20 minutes.

While the brownies bake, mix together the egg white, remaining sugar, coconut and the other teaspoon of vanilla extract.

When the brownies are ready, gently spread the coconut mixture over the top of them. Heat the grill to its highest setting and grill the coconut-topped brownies, watching closely, until golden on top. Cut into squares. These brownies can be served warm or at room temperature, on their own or with vanilla or coconut ice cream.