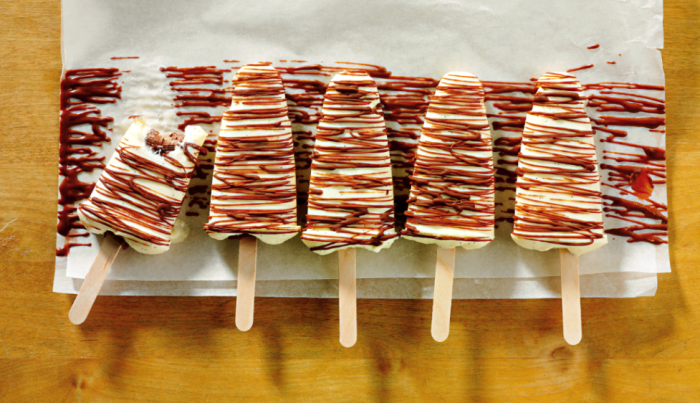 We love a big book of desserts and pastries, so you can imagine our delight when this one rolled in. Swedish pastry chef Claes Karlsson compiled his favorites into one tome, and we picked out the best frozen ones to beat the heat. Whip up a batch of simple vanilla ice cream and transform it into the best ice cream pop you never thought you could make at home.
You'll need a sturdy ice-pop mold and some popsicle sticks, which you can find at most supermarkets or any crafts store. As for piping the chocolate, here's a tip: when it's cooled (but not cool) pour the chocolate into a zip-top bag, snip off the tip of a corner and go to town, no fancy frosting device needed.
Reprinted with permission from The Big Book of Desserts and Pastries
Ingredients
3 1/2

ounces

nougat

freshly made vanilla ice cream

3 1/2

ounces

chocolate, to garnish
Directions
Freeze some ice cream molds. Cut the nougat lengthwise into 6 equal pieces. Cut each piece in half and sandwich the popsicle sticks between the pieces of nougat. Place in the freezer.
Pour the freshly made vanilla ice cream into the ice cream molds, until each mold is about halfway full. Press the frozen nougat ice cream sticks into the container and remove any excess ice cream with a spatula. Return the ice cream molds to the freezer and let chill for about 3 hours.
Carefully melt the chocolate in the microwave oven on low power, stirring occasionally. Remove the ice cream from the molds by warming the molds with your hands. Place the ice cream pops on parchment paper and pipe the melted chocolate over them. Return to the freezer for a few minutes before serving.
More popsicle recipes on Food Republic: