NoMad At Home: Scallop With Sea Urchin And Fennel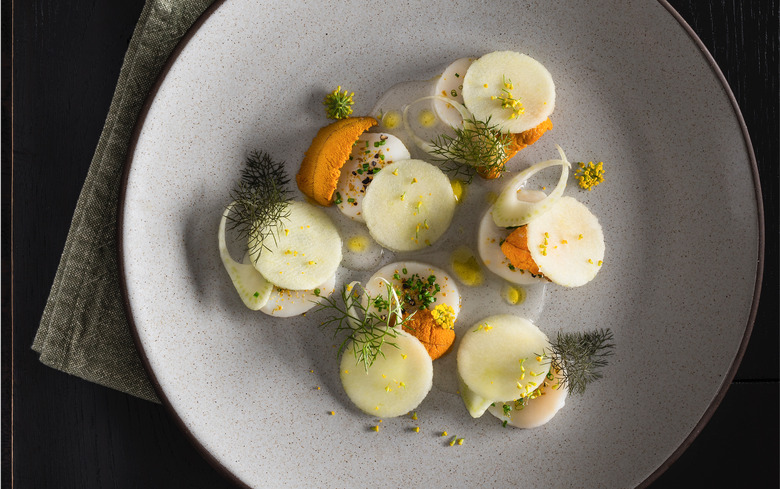 We may receive a commission on purchases made from links.
It'll take dedication, but you can pull off Michelin star–quality meals at home with the help of (and, again, solid commitment to) award-winning chef Daniel Humm and restaurateur Will Guidera's third cookbook. The culinary and creative minds behind Eleven Madison Park (plus legendary mixologist Leo Robitschek) come together once more for The NoMad Cookbook, a collection of recipes from the beloved New York City hotel restaurant.
And hey, just because the food's fancy doesn't mean you can't pull off this reasonably simple dish at home. Most Asian markets with a well-stocked fish section have uni, or sea urchin roe, as well as sashimi-grade scallops. Serve this as a first course at your next dinner gathering and never go back to shrimp cocktail.
NoMad At Home: Scallop With Sea Urchin And Fennel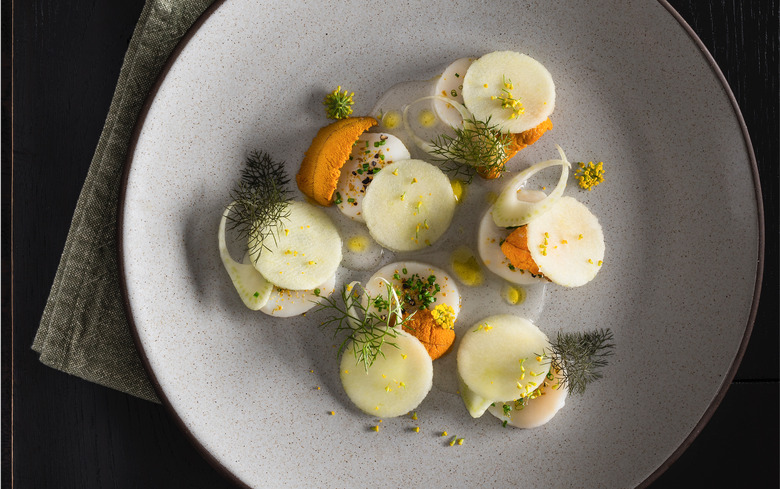 Ingredients
8 U10 scallops
1 fennel bulb
1 Granny Smith apple
3/4 cup Granny Smith apple juice (from about 3 apples)
1/5 teaspoon ascorbic acid
salt
2/5 teaspoons xanthan gum
olive oil
fleur de sel
fennel pollen
cracked black pepper
Sliced chives
16 sea urchin tongues
White balsamic vinaigrette
Fennel blossoms
Bronze fennel fronds
Directions
Remove and discard the side muscle from each scallop. Slice the scallops lengthwise into 6-mm (1⁄4-inch) thick rounds. Punch the scallop slices with a 4-cm (1½-inch) ring cutter. Place the scallop rounds in a single layer on a baking sheet lined with acetate. Keep refrigerated until ready to serve.
Add the ascorbic acid to the apple juice immediately after juicing to preserve its green color.
Strain the juice through a coffee filter to clarify. Season with salt and transfer to a blender. Begin to blend at low speed and slowly add the xanthan gum. Blend on medium speed for 1 minute to fully hydrate the gum. Strain the sauce through a chinois and keep refrigerated.
Thinly slice the fennel bulb crosswise, beginning at the top end, using a mandoline. Reserve the fennel shaves in ice water until ready to serve.
Using a mandoline, slice the apple 1.5 mm (1/16 inch) thick. Punch the slices into rings without skin, using a 4-cm (1½ -inch) ring cutter.
Brush the scallop slices with olive oil and season with fleur de sel, fennel pollen, and cracked black pepper. Garnish with sliced chives. Divide the scallop slices among four plates. Arrange the sea urchin tongues and apple punches on and around the scallops. Drain the fennel shaves and dress with the white balsamic vinaigrette in a bowl. Garnish each plate with the dressed fennel shaves, fennel blossoms, and fennel fronds. Sauce each plate with the green apple sauce. Break the sauce on each plate with several drops of olive oil.