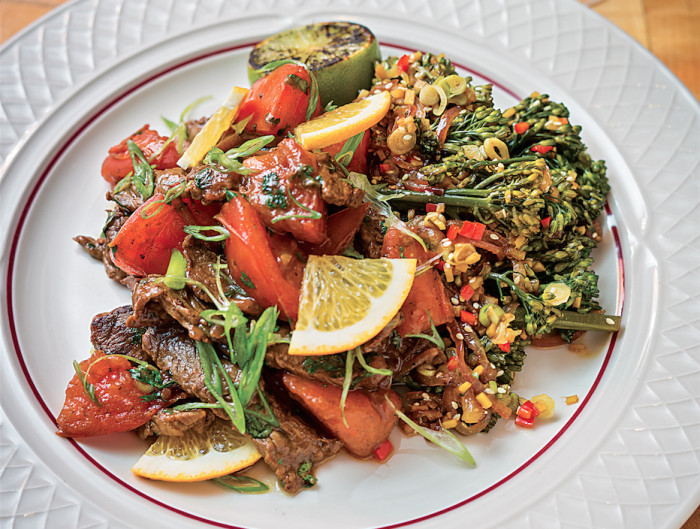 City Harvest is an organization dedicated to rescuing and "re-homing" food around New York City where it's needed most. Longtime New York Times food writer and cookbook author Florence Fabricant compiled 100 recipes from some of the city's most beloved chefs and added their (and her) tips for eliminating food waste at home. A portion of the proceeds from the book goes to City Harvest, so pick one up and start cooking right!
Though he was raised in Sweden by adoptive parents and began his career in New York at Aquavit, a Scandinavian restaurant, Marcus Samuelsson's Ethiopian roots show through in some of his cooking. His Harlem restaurant offers tastes of Africa, Sweden, and the southern United States, and this dish is a billboard for Ethiopia, well spiced and bolstered with tomatoes and peanuts.
Cook's Notes: For surefire tenderness, use the tenderloin. Consider serving rice alongside this dish.
Ingredients
1

tablespoon

mild chili powder

1/2

teaspoon

ground cardamom

1/2

teaspoon

ground ginger

1/4

teaspoon

freshly ground black pepper

1 1/2

pounds

hanger steak or beef tenderloin, cut into 1/2-inch cubes

1/4

cup

peanut oil

2

red onions, sliced

3

cloves

garlic, quartered

salt

3

medium-size ripe tomatoes, chopped, or 1 1/2 cups drained, roughly chopped canned tomatoes

1

bunch

broccolini, in 2-inch pieces

2

jalapeños, seeded and thinly sliced

1/2

cup

unsalted dry-roasted peanuts, coarsely chopped

1/2

cup

dry red wine

6

thin slices navel orange, quartered
Directions
For the stir-fry
Mix the chili powder, cardamom, ginger, and pepper in a bowl. Add the beef and toss to coat.

Heat the oil in a large skillet on high. Add the onions and garlic and sauté, stirring constantly, until they begin to brown on the edges. Add the meat, sprinkle it with 1 teaspoon salt, and stir-fry until it is browned on all sides.

Reduce the heat and add the tomatoes, broccolini, jalapeños, peanuts, and wine. Simmer for about a minute, then season with salt if needed. Cook for about 2 minutes more, then serve, garnished with orange pieces.