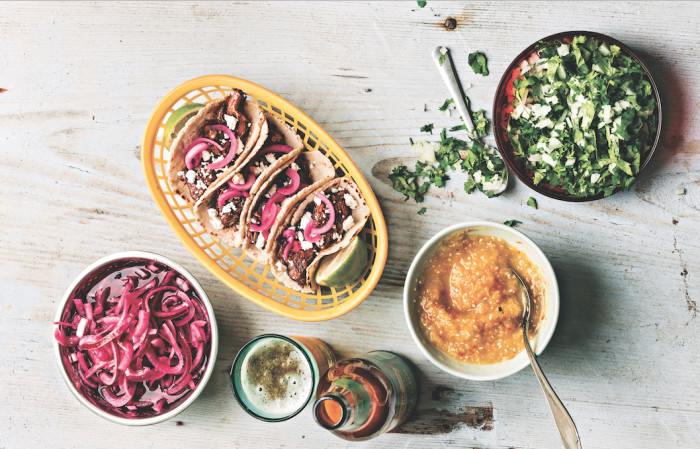 Frank X. Tolbert was a chili lover who dedicated his life to finding the perfect chili recipe. This is what he discovered: no tomato, no beans, and just a whole lot of chili. This chili is hot, of course, but it's a kind of muffled, rumbling heat, almost like a caress.
Ingredients
1

dried chipotle chili

1-2

dried chilis, such as ancho

about 2 1/4 pounds

braising steak, such as chuck shoulder or blade

1

whole

garlic bulb

corn oil, for frying

2-3

tablespoons

all-purpose flour

1

tablespoon

chili powder

2

teaspoons

dried oregano

2

teaspoons

ground cumin

2

teaspoons

dried coriander

1

tablespoon

granulated sugar

Salt and freshly ground black pepper

1-2

fresh chilis

1 1/2 cups

beer

1

beef bouillon cube
Directions
For the tacos
Remove the stems and seeds from the dried chilis. Cover with 1/2–1 cup water and boil for about 15 minutes. Dice the steak and finely chop the garlic, then cook the meat and garlic in a little oil. Cook in small batches to get a nice searing of the meat.

Dust the fried meat with flour, chili powder, the other dried herbs and spices, the sugar, and salt and pepper. Finely chop and add the fresh chilis. Process the boiled chilis and water together in a blender or food processor and pour over the stew. Add the beer and bouillon cube so that it just covers the meat.

Cover with a lid and let simmer for at least 2 hours, or until the meat is tender and thready.

Serve with small wheat or corn tortillas, wedges of lime,
sour cream or crème fraîche, chopped cilantro, white onion,
and grated cheddar cheese.