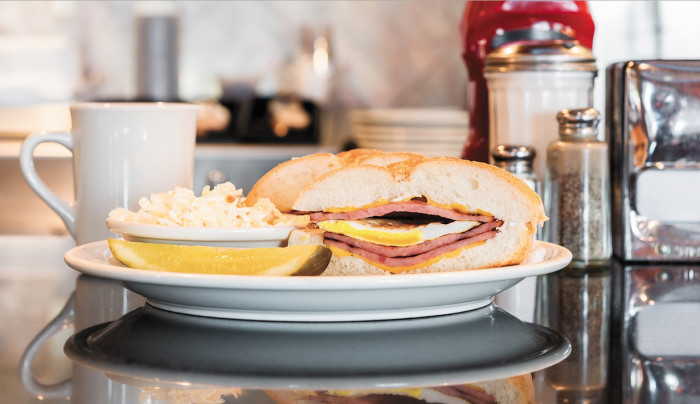 Say what you will about New Jersey, but head over the bridge and you'll eat very, very well. With an enormous amount of farmland as well as a diverse immigrant (and native) population, you'll be ready to move on from red-sauce Italian quicker than you may think. Take a peek into the Garden State's culinary past, present and future with New Jersey native and food and beer journalist John Holl's new cookbook. 

It seems simple enough, right? Three ingredients stacked inside a hard roll — what's so complicated? For a sandwich with slippery contents, construction is key, as is the ingredients ratio. I remember once being at a South Jersey diner that served this breakfast staple with a dozen slices of Taylor ham. It was a glorious sight — until my first bite sent slices of ham sliding out the back end to plop down onto the plate below. A sandwich should stick together — that's what makes a sandwich a sandwich, rather than something you have to eat with knife and fork.
Ingredients
1/4

tablespoon

butter

3

slices

Taylor ham or pork roll

2

eggs

Salt and freshly ground black pepper

3

slices

yellow American cheese

1

kaiser or round crusty roll, cut in half, lightly toasted

Coleslaw, pickle, ketchup (optional, but really mandatory)
Directions
For the sandwich
Melt the butter in a skillet over medium heat. Cut four evenly spaced slits around the edges of the ham (to prevent curling), add to the skillet, and cook until the edges are beginning to brown, about 5 minutes. Set aside on a plate lined with a paper towel to absorb any excess grease.

Crack the eggs into the skillet and season with salt and pepper. Cook gently over medium heat until you reach your desired level of doneness. Turn off the heat. Cover the eggs with one slice of cheese and let stand until softened, 30 seconds.

Meanwhile, put the bottom half of the toasted roll on a plate. Top with one slice of cheese, then the meat, then the remaining slice of cheese. Add the egg and cheese from the pan, followed by the top half of the roll. Serve immediately, with a side of coleslaw, a pickle spear, and ketchup.