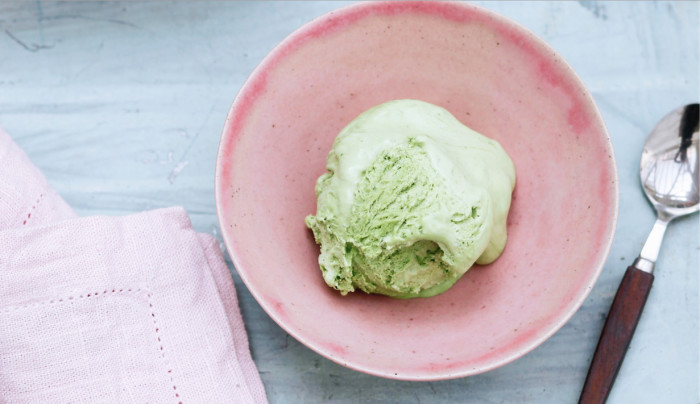 There's no recipe that beloved British cookbook author and TV host Nigella Lawson can't handle, which is why we were particularly excited to receive her new book, Simply Nigella. Ready to liven up your ice cream game? The answer should automatically be yes, particularly if you don't have to churn it!
I love matcha ice cream, and this version gives me particular pleasure. Yes, it's ridiculously easy to make, which is gratifying, but more glorious — and important — is the perfect balance between the sophisticated bitterness of the matcha powder and the uncompromisingly childish sweetness of the condensed milk. You would never imagine such an uncouth ingredient could be a factor in the exquisite outcome here.
I first made this during the photo shoot for this book, as a spontaneously on-the-spot recipe, simply because I had the matcha still out on the counter from the making of the Matcha Cake, and I have to say it has emerged as one of my absolute favorite recipes.
Make-Ahead Note: The ice cream can be made and frozen up to 1 week ahead.
Store Note: Leftover ice cream should be returned to freezer as quickly as possible and is best eaten within 1 month.
Ingredients
1 1/4

cups

heavy cream

1/2

14-ounce can (2/3 cup)

condensed milk

2

tablespoons

Izu Matcha green tea powder

2

1-pint

empty ice cream or airtight containers (or 1x1-quart tub or airtight container)
Directions
For the ice cream
Whisk the cream to soft peaks, then whisk in the condensed milk.

Then whisk in the green tea powder until you have a whipped green cream.

Decant into your airtight container or containers and freeze overnight.

Take the ice cream out of the freezer to soften for 10 minutes before serving.