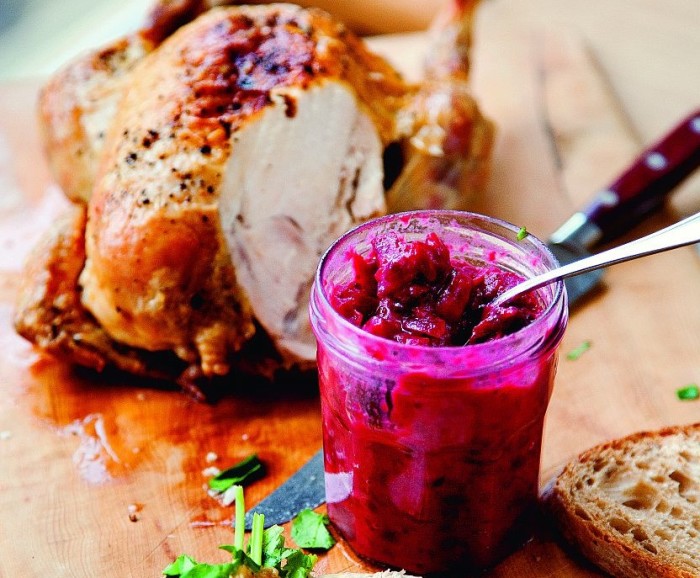 This is inspired by a mustard served at New York's Home Restaurant, a fabulously comforting place. I have made it slightly sweeter. It's perfect at Christmas, when you're making all those turkey and ham sandwiches and want cranberries with a kick.
This is obviously a good thing to have around at Christmas, and it's good with cold cooked ham, too. Russians eat cranberries with red meat, so don't rule it out with cold rare roasted beef. Its selling point is that it is both hot and sweet.
Ingredients
3/4

cup

dried cranberries

2/3

cup

apple juice or orange juice

2

cups

fresh cranberries

3

tablespoons

granulated sugar

1/4

cup

honey

1

tablespoon

olive oil

1

small red onion, finely chopped

1

tablespoon

red wine vinegar

1

tablespoon

grainy mustard

sea salt

freshly ground black pepper
Directions
Put the dried cranberries in a saucepan and add enough apple juice or orange juice to cover. Bring to a boil, then remove from the heat and let sit to plump up for 30 minutes.
Put 1 cup of water and the fresh cranberries in a saucepan and bring to a boil. Reduce the heat and simmer until the cranberries have burst (about five minutes), then add the sugar and honey and stir until dissolved.
Heat the olive oil in a small skillet and sauté the onion until soft and golden. Add the vinegar and mustard and cook gently for another five minutes. Mix this with both types of cranberries and any remaining soaking liquid from the dried cranberries, and season to taste.
Process in a food processor using the pulse button (if you want it really smooth, you can then press the mixture through a nylon strainer, but I leave it chunky). Put in a sterilized jar, then cover and seal with a vinegar-proof lid. Let cool, and keep in the refrigerator for up to two weeks.
Try out these sauce recipes on Food Republic: