New Potato Rendang & Green Beans Recipe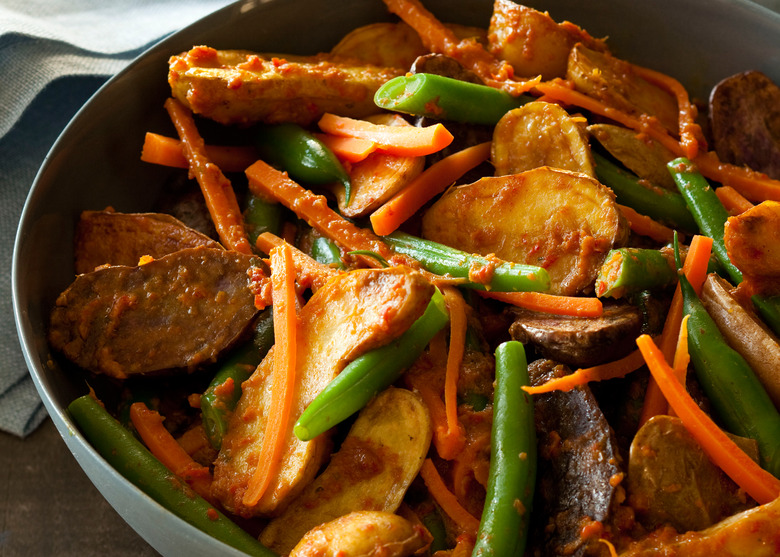 Add some Malaysian flavors to your life with this addictively spicy potato experience. Rendang is a special kind of curry in which a main ingredient is slowly cooked in spicy coconut milk until the sauce is deeply reduced. Tender new potatoes absorb the spice-infused coconut sauce and cook down to lush, citrusy perfection.
New Potato Rendang & Green Beans Recipe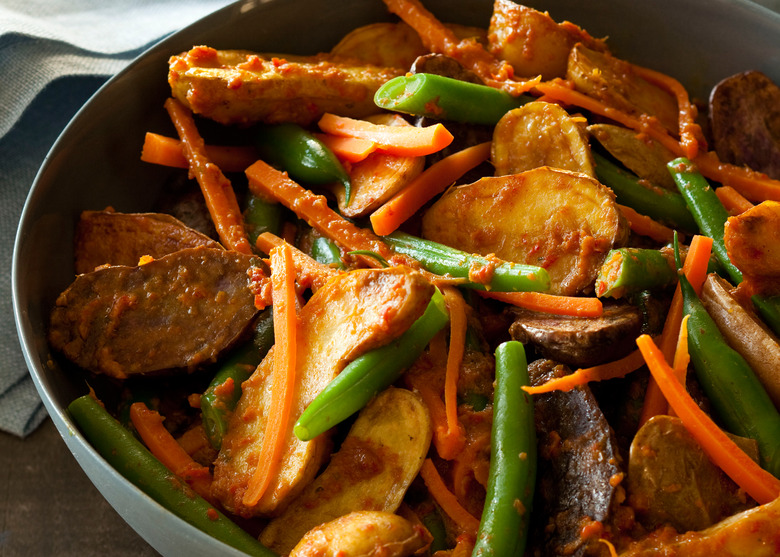 Ingredients
1 large red Fresno chili
1/4 cup shallot
1 tablespoon ginger
2 cloves garlic
1 lemon
1 lime
1 teaspoon ground turmeric
1/8 teaspoon cloves
1 cup coconut milk
1 pound fingerling or new potatoes
4 ounces green beans
1 medium carrot
1 teaspoon tamari
1/2 teaspoon salt
Directions
In a coffee grinder or mini chopper, combine the chile, shallot, ginger, garlic, lime and lemon zests, turmeric and cloves. Process to puree them to a smooth paste. If needed, add a little of the coconut milk to help it puree.
Transfer the paste to a large frying pan, and stir in the coconut milk. Add the potatoes and bring them to a simmer, stirring. Cover and check often, stirring and adding water as needed to keep the potatoes from sticking.
When the potatoes are almost tender, add the beans, carrot, tamari, and salt and keep stirring.
Cook until the vegetables are tender and the sauce is completely thick and coats the vegetables.
Squeeze half of the zested lime over the vegetables, taste, and add more as desired. Serve hot.