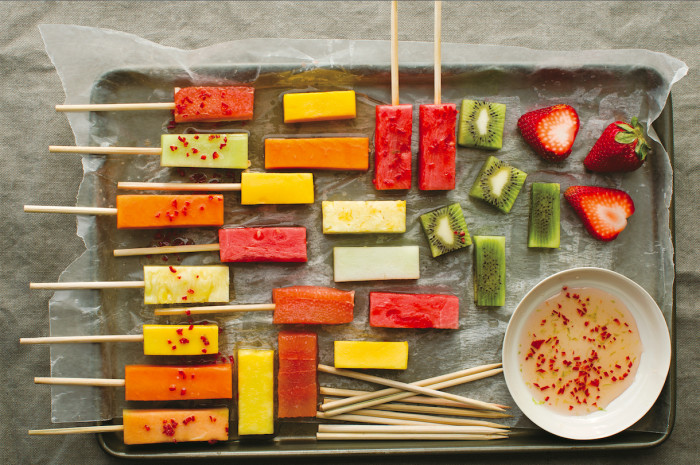 You want good food and you want it fast. You're in luck, because we just picked up a copy of chef and TV personality Jason Roberts's new book, Good Food — Fast! Whether the goodness you crave is gluten-free, vegetarian, vegan, or protein-heavy, if it makes you feel good, there's a recipe for it in here. Ever seen fruit dressed up like this for the party?  
Here's a real feel-good dessert: It requires minimal effort, it's low in fat, and it's so refreshing. There is no set type of fruit to use; however, it should reflect the season and what's available and especially good at the time! I like to make the fruit look nice and uniform (save the offcuts for fresh juice or a smoothie the next day).
Ingredients
1/4

cup

sugar

1/4

cup

water

1/2

small

red chilis, seeds removed, finely chopped (or 1/4 teaspoon chili flakes)

juice and zest of 1 lime

2

mangoes, ripe yet firm

1

small

papaya, watermelon or cantaloupe

1

basket

strawberries, hulled

1/2

small

pineapple

2

kiwi fruits, peeled and cut into bite-size chunks

bamboo skewers to thread the fruit
Directions
Bring the sugar, water, chili and lime juice and zest to a boil in a pot.
Simmer for 2 minutes, then remove it from the heat and allow it to cool.
Cut the cheeks (the flesh from either side of the pit) from each of the mangoes.
Remove the skin and cut each cheek in half.
Then cut each piece of mango into three mouthful-size pieces.
Split the papaya, watermelon or cantaloupe in half, peel away the skin, and discard the seeds.
Cut the skin off of the pineapple.
Cut the papaya and the pineapple into similar mouthful-size pieces.
Thread the fruit onto skewers.
To serve, brush each skewer with the lime and chili syrup. Enjoy!
Find more fruity desserts on Food Republic: