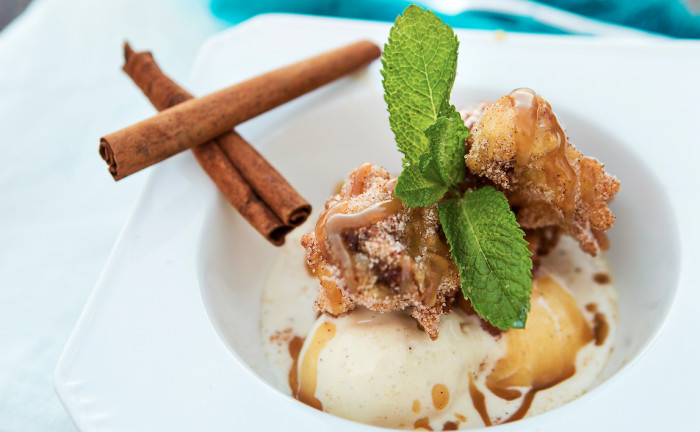 Renowned chef, restaurateur and master of the Caribbean's "cuisine of the sun" Cindy Hutson has a new book out that you'll want to read cover to cover if you've ever loved a fried grouper sandwich. With recipes from her travels, fishing expeditions, restaurants and other places you'll find some of the best spicy grilled chicken on the planet, From the Tip of My Tongue is a fresh look at island cuisine from one of its champions. And let's not forget the bananas and rum. Or the deep-fryer. 
This was my first original restaurant dessert, served at Norma's on the Beach. Customers loved it, so I took it with me to every restaurant we opened, where it was always the top-selling dessert. Every pastry chef scowled at me, though, because the batter was almost impossible to stick on those rum-soaked bananas. Finally, at Ortanique on the Mile, I had to take them off the menu because the fire department said I didn't have the right hood in the pastry station for the fryers, and I could no longer cook them. Customers said they would boycott. No, really; they were irate. I still hear about it today. I even heard about the displeasure of a Coral Gables fireman who remains anonymous. So you see, even at home, they are worth the hassle.
Yes, these bananas are time-consuming. Yes, they can be frustrating. But they are truly worth it. I do recommend a Presto FryDaddy to fry these, as a pot with oil is just too hard to keep consistent heat-wise. Good luck!
Ingredients
Rum-soaked raisins
3/4

cup

raisins

1/3

cup

dark rum
Fritter batter
2

eggs, whites and yolks separated

1

tablespoon

sugar

1/2

teaspoon

kosher salt

2

tablespoons

salted butter, melted

3

cups

all-purpose flour

1 1/2

cups

light beer
Rum-raisin whipped cream
1

pint

very cold heavy cream

3/4

cup

rum-soaked raisins

1

tablespoon

vanilla extract

1

tablespoon

sugar
Cinnamon sugar
3

tablespoons

ground cinnamon

3/4

cup

sugar
Drunken bananas
1/2

cup

dark rum

1/4

cup

brown sugar

1

tablespoon

ground cinnamon

4

ripe

bananas, cut in half lengthwise and then in half horizontally

1

quart

store-bought cinnamon ice cream
Directions
For the rum-soaked raisins
In a bowl, combine raisins and dark rum. Allow raisins to soak at least 30 minutes or overnight.

Prepare fritter batter. In a large mixing bowl, beat egg yolks with sugar, salt and butter. Add flour and beer and gently combine. In a separate bowl, whip egg whites until stiff. Fold them into the batter. Set aside for at least 30 minutes before using.
For the drunken bananas
In a small bowl, combine rum, sugar and cinnamon. Add bananas and allow to macerate for at least 30 minutes.

Prepare a deep fryer. Add frying oil according to the manufacturer's recommended fill-to line, and heat to 325°F.

Coat marinated bananas in the fritter batter. This can be tricky, as it is a thick batter and sometimes it almost needs to be wrapped around the banana. Don't get frustrated; you've almost reached the final prize.

One by one, drop fritters into the fryer. As fritters turn golden brown, remove them and let the oil drip off a little into the fryer then toss them in the cinnamon sugar to coat. Keep warm until you have fried all the bananas.

Divide among 6 bowls, giving each bowl at least 2 fritters. Serve with a scoop of cinnamon ice cream and top with the raisin whipped cream.