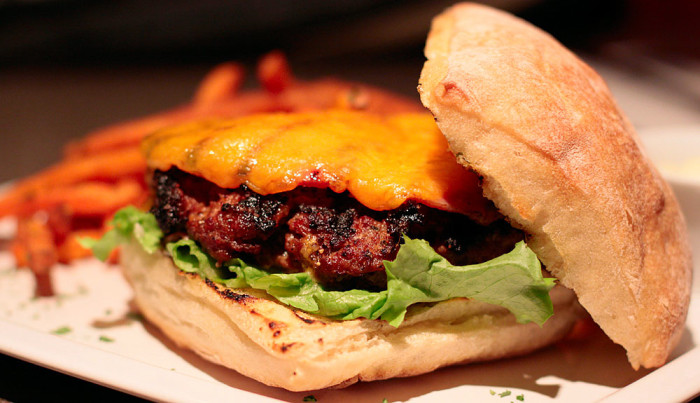 Our burger of the week has been on Whistler Blackcomb's menu since BBQ Pitmaster Myron Mixon took home first prize in a competition in 2004. With one bite, you'll know why. Mixon's secret is smoking the burger first, then searing it in a bit of butter to seal in the moisture and add an extra layer of flavor. Once you get a taste of a smoked burger's bold flavors, you may never go back. He likes generously portioned burgers, so this recipe calls for half-pound patties. Feel free to make them smaller if you like.
Ingredients
1

pound

ground beef, the best and freshest you can afford

1

1-ounce packet

dry ranch dressing mix

3

tablespoons

Beef Rub, (see below)

2

tablespoons

unsalted butter

2

slices

sharp cheddar cheese

2

slices

smoked Canadian bacon

2

white hamburger buns
Beef Rub
1/2

cup

kosher salt

2

tablespoons

1

teaspoon

sugar

1/2

teaspoon

chipotle pepper powder

1/2

teaspoon

chili powder

1

teaspoon

garlic powder

1

teaspoon

granulated dried onion
to garnish
mayonnaise

Iceberg lettuce

Ripe tomato slices
Directions
Preheat a smoker or oven to 300 degrees F.
In a medium nonreactive bowl, combine the ground beef with the ranch dressing mix and the beef rub. Mix gently with your hands, but be careful not to overwork the meat. Form into 2 patties (or more if you want smaller burgers).
Place the burgers in an aluminum pan and place the pan in the smoker or in the oven. Cook for 15 minutes for medium-rare and up to 30 minutes for medium-well.
Remove the burgers and allow them to rest, uncovered. Melt the butter in a medium skillet over medium heat.
When the butter is hot but not smoking, slide the burgers carefully into the skillet, using a spatula. Cook the burgers for about 3 minutes on each side, just until they're seared and a nice crust has formed.
Top with cheddar cheese. Transfer burgers onto a platter and let them rest, lightly covered with aluminum foil.
In the same medium skillet over medium heat, cook Canadian bacon for about 2 minutes on each side, until lightly crispy. Transfer to paper towels to absorb any excess grease.
Lightly toast the buns and smear the top and bottom halves of each with a little mayonnaise. Add burgers, a slice of Canadian bacon, a piecce of lettuce and a slice of tomato and serve.