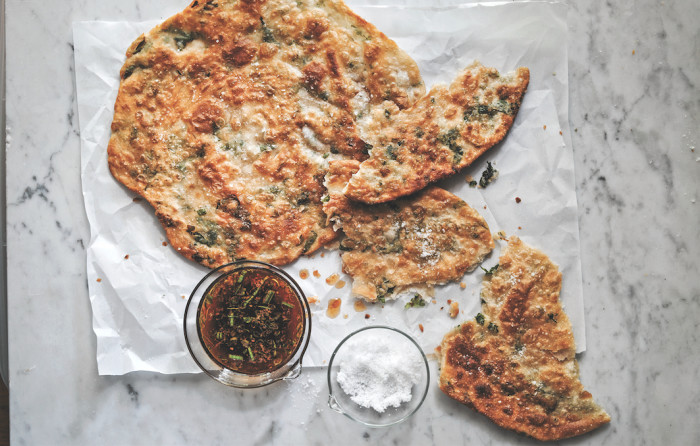 Portland chef Jenn Louis' cookbook is one of our favorite collections of vegetable recipes in recent memory. Packed to the gills with all the information you could ever need to up your leafy greens intake, The Book of Greens is a must-own for lovers of kale and everything kale-like under the sun. These mustard green pancakes, inspired by Chinese scallion pancakes, are simply sublime. 
These aren't like breakfast pancakes; they are like the scallion pancakes you might find in a Chinese restaurant. If you love the sharp, strong flavor of mustard, then you will love these. Or if you don't want so much of a vegetal flavor, consider subbing in a milder green, such as spinach or chard. The dipping sauce drives home the Asian flavor.
Other greens to try: nettles, spinach, lamb's quarters, chard
Ingredients
Pancakes
2

cups

all-purpose flour

1

cup

boiling water

1/4

cup

toasted sesame oil

1

ounce

thinly sliced mustard greens (tender stems are okay)

1/4

cup

neutral vegetable oil

kosher salt
Dipping Sauce
2

tablespoons

soy sauce

2

tablespoons

rice wine vinegar

1

tablespoon

toasted sesame oil

1

tablespoon

thinly sliced green onions (green parts only)

1/2

teaspoon

peeled and grated fresh ginger

2

teaspoons

sugar
Directions
For the pancakes
Put the flour in a food processor. With the motor running, slowly drizzle in 3⁄4 cup of the boiling water. Process for 15 seconds. If dough does not come together, drizzle in more water, 1 tablespoon at a time, until it just comes together. Transfer to a work surface and knead a few times to form a smooth ball. Cover with plastic wrap and allow to rest for 30 minutes at room temperature.

Divide the dough into four equal pieces and roll each into a smooth ball. If sticky, lightly dust each ball with flour. Working with one ball at a time, roll out into a disk about 8 inches in diameter. Using a pastry brush, paint a very thin layer of sesame oil over the top of the disk. Roll the disk up into a cylinder, then start at one end and coil the dough like a snail's shell. Flatten gently with your hand and roll again into an 8-inch disk.

Paint with another layer of sesame oil, top with an even layer of one-quarter of the sliced mustard greens, and roll up into a cylinder again. Again, coil like a snail's shell, flatten gently, and reroll into a 7-inch disk. Repeat with the remaining dough and mustard greens to make three more pancakes.

To make the dipping sauce, combine all the dipping sauce ingredients in a small bowl, mix well, and set aside at room temperature.

Heat the oil in an 8-inch nonstick or cast-iron skillet over medium-high heat. When the oil is hot, after 2 to 3 minutes, carefully slip one pancake into the hot oil. Cook, shaking the pan gently until the first side is an even golden brown, about 2 minutes. Carefully flip with a spatula or tongs and continue to cook until the second side is an even golden brown, about 2 more minutes. Season with salt and cut into six wedges. Serve immediately with the sauce for dipping. Repeat with the remaining pancakes.