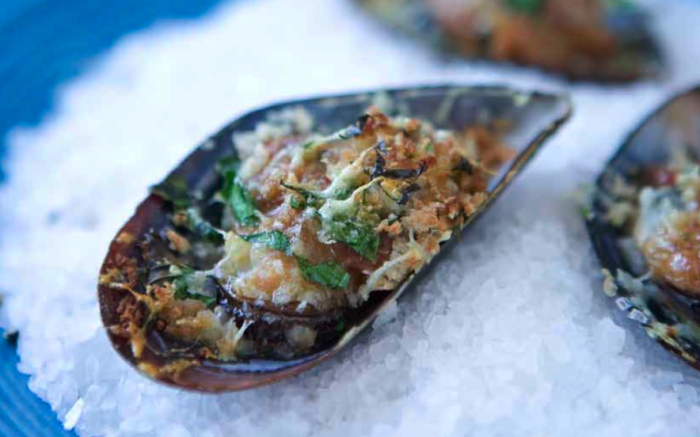 My friend Ashlyn introduced me to a version of this recipe. She grew up in Louisiana and Mississippi and loved eating Oysters Bienville, a famous dish from New Orleans, which she then adapted by replacing the original seafood with mussels. In honor of Ashlyn, I'd like to tell you her favorite one-liner that she says every single time I mention I'm cooking mussels (or clams, or oysters, for that matter): "Vanna," she says, "I'd like to bivalve."
Ingredients
2

pounds

mussels

1/4

cup

dry white vermouth or dry white wine

2

ounces

pancetta

1/4

cup

finely minced shallots

zest of

1 lemon, plus lemon juice for finishing

1/4

teaspoon

cayenne

2

tablespoons

mayonnaise

2

tablespoons

minced fresh Italian parsley

1/4

cup

panko or breadcrumbs

2

ounces

grated Manchego cheese

rock salt, for serving
Directions
Scrub and debeard the mussels.
Preheat the broiler. Place a rack in the lower middle position of the oven.
Put the mussels and vermouth in a saucepan over high heat and cover. Cook just until the mussels pop open, 2 to 3 minutes. Remove them with tongs as they open. (Any mussels that do not open can be pried open using an oyster shucker or discarded.) When the mussels are done, strain the mussel liquor and reserve. Let the mussels cool.
In a wide sauté pan, cook the pancetta over medium heat until it releases some of its fat, about 5 minutes. Add the shallots and cook, stirring occasionally, until they are soft, about 5 more minutes.
Add the reserved mussel liquor, lemon zest, and cayenne and deglaze the pan, letting the juices evaporate completely. Transfer the mixture to a bowl and fold in the mayonnaise. In a separate bowl, mix the parsley and panko.
When the mussels are cool, twist off the top shells and discard. Place the mussels in their bottom shells on a sheet pan. Top each mussel with a small amount of the pancetta-shallot mixture and then coat the top with some of the parsley-panko mixture. Finish each with a sprinkle of Manchego.
Broil the mussels until the topping is light brown, 1 to 2 minutes. Don't overcook them or they will get tough. Serve on a bed of rock salt with a squeeze of the lemon juice, if desired.
Check out these other mussels recipes on Food Republic: