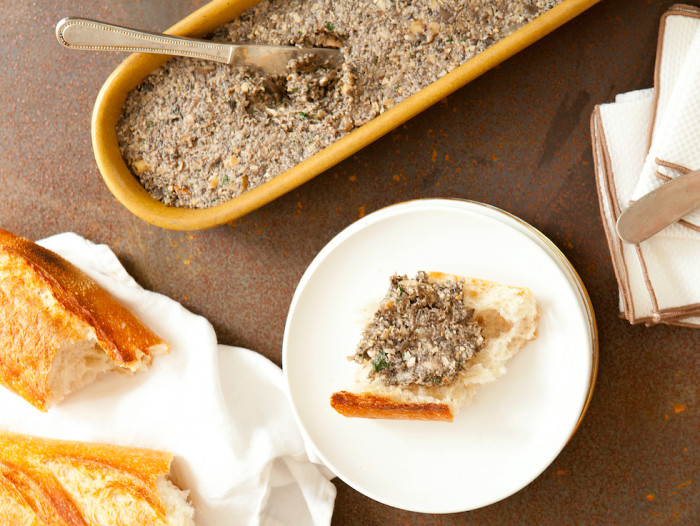 It's not just for frozen drinks anymore! That's right, your blender is one useful appliance. We've been reminded of this very obvious (but important) fact in author Rebecca Ffrench's new Ultimate Blender Cookbook. Suddenly sauces, baking and even burgers have taken on new life. Make a pâté every guest at the party will enjoy by enlisting mighty mushrooms.
Woodsy and earthy, this tasty terrine makes an impressive vegetarian appetizer. Spread it on a warm, crusty piece of baguette and you'll leave your guests swooning. If you have leftover pâté, heat it up in a skillet with a little cream and chicken broth for a quick yet exquisite pasta sauce.
Reprinted with permission from The Ultimate Blender Cookbook
Ingredients
2

tablespoons

extra virgin olive oil, plus extra for oiling the ramekin

3

small

shallots, peeled and sliced

2

cloves

garlic, peeled and sliced

1 1/2

pounds

mixed fresh mushrooms, such as portobello, cremini, shiitake and oyster

1/4

cup

flat-leaf parsley leaves

1

tablespoon

fresh thyme

1/2

teaspoon

kosher salt

1/8

teaspoon

freshly ground black pepper

1

cup

cashews, soaked

1/2

teaspoon

freshly squeezed lemon juice
Directions
Heat the oil in a skillet over medium heat and add the shallots, sautéing them for 5 minutes.
Then add the garlic, mushrooms, parsley, thyme, salt and pepper, and sauté for another 5 minutes.
Transfer the mushroom mixture to the blender and add the cashews and lemon juice.
Pulse several times until the mixture is combined but some texture still remains.
Spoon into a well-oiled ramekin and cover tightly with plastic wrap.
Chill for at least 2 hours or overnight.
Serve on warm baguette rounds.
Find more vegetarian appetizers on Food Republic: