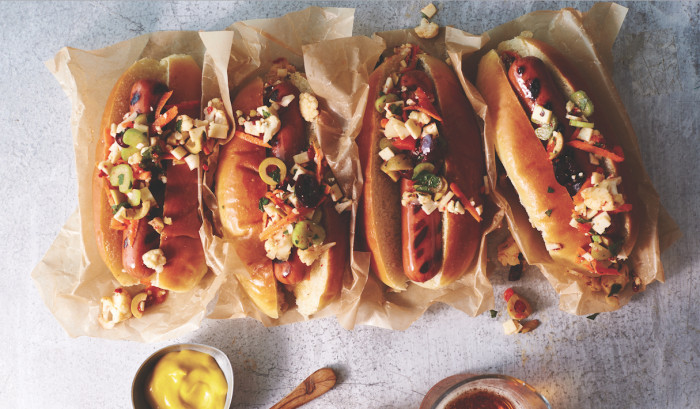 If you need triple-tested, much-beloved recipes for your favorite Southern comfort foods, turn to the experts at Southern Living magazine's test kitchen. Craving a new spin on an old favorite? The editors' new collection, Recipe Revival, is stacked and loaded with everything you need to know to churn out perfect batch after perfect batch. Ready to add some NOLA style to your hot dog game? Learn how to make muffuletta dogs, and never go back!
Looking to bring a taste of New Orleans to your next cookout? This is just the ticket. Our latest muffuletta riff (we've also made muffuletta deviled eggs, sliders, and cocktail kabobs) lightens up the classic filling and turns it inside out for a chargrilled hot dog topping. It's light, fresh and, quite frankly, delicious.
Ingredients
2

cups

chopped fresh cauliflower

1/2

cup

grated carrot

3

reduced-fat provolone cheese slices, chopped

1/3

cup

thinly sliced celery

1/3

cup

chopped jarred marinated roasted red bell peppers

1/4

cup

chopped pimento-stuffed Spanish olives

1/4

cup

chopped Kalamata olives

1/4

cup

chopped fresh parsley

1/4

cup

bottled light olive oil vinaigrette

6

hot dogs

rolls
Directions
For the dogs
Stir together the cauliflower, carrot, chopped provolone cheese, celery, chopped roasted red bell peppers, chopped stuffed olives, chopped kalamata olives, parsley, and vinaigrette.

Cover and chill 2 hours.

Grill the hot dogs according to package directions.

Place the hot dogs in the rolls, and top with the cauliflower mixture.