Moussaka Recipe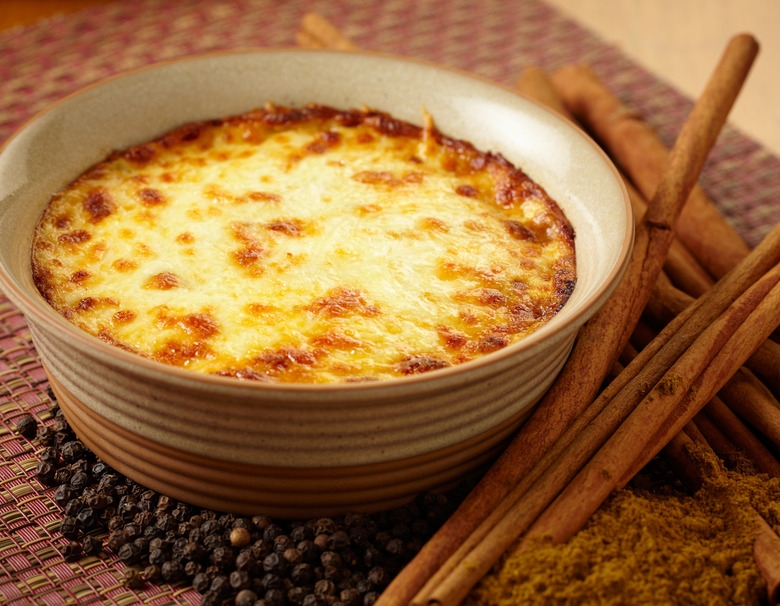 Photo: Molyvos NYC
The moussaka recipe at Molyvos starts with center-cut lamb and beef chuck, which comes to the restaurant whole daily. The meat is butchered and ground in-house — during the cooking process, we take the time to sear the meat, giving it a nice caramelization. The meat is seasoned in every step of the cooking process and we buy the freshest whole and ground spices at Kalustyan's in New York. Everyone uses cinnamon in moussaka, but we use a mix made up of five different spices called Ras el Hanout, specially prepared for us.
After all the ingredients are prepared, we use a bechamel sauce with yogurt, giving this moussaka a light but very creamy texture that rounds out the dish. In addition, each casserole is built in individual dishes and baked to order. The end result is a hot bubbling moussaka cooked just for you. Kali Orexi! (Bon Appetit!)
Moussaka Recipe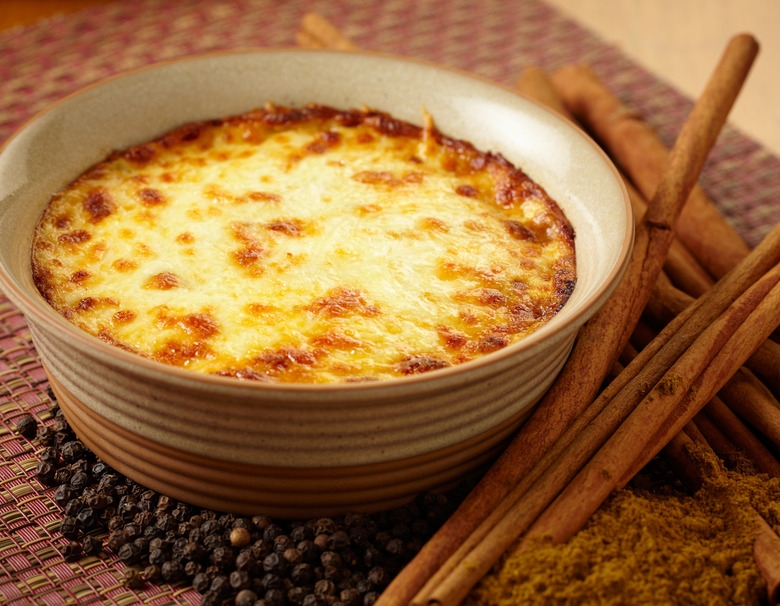 Ingredients
1/2 cup dried currants
1 28-ounce can whole plum tomatoes
2 1/4 cups olive oil
1 pound 90% lean ground beef
1 pound lean ground lamb
coarse salt and freshly ground pepper
2 tablespoons Ras el hanout
1 tablespoon Aleppo or red pepper flakes
1 1/2 teaspoons ground cinnamon
4 cups onion
6 cloves garlic
2 cups dry red wine
18 1/4-inch slices Idaho potato (about 1 pound)
2 medium red or yellow bell peppers
18 1/4-inch slices eggplant (about 2 pounds)
3 cups yogurt bechamel sauce (see link to recipe above)
1 cup Kefalotyri or Parmesan Cheese
Directions
Place currants in a bowl and cover with hot water. Set aside to soak for 30 minutes.
Drain the tomatoes, reserving the juice. Crush the tomatoes with your hands. Measure out 2 1/2 cups of crushed tomatoes and combine with the reserved juice. Set the tomatoes aside.
Place a large skillet over medium heat. Once it is hot, coat the pan with 2 tablespoons of olive oil. 
Add a quarter each of the beef and lamb. Break up the meat with a spoon and cook for 5 minutes, or until lightly browned. Season with a generous pinch of salt and pepper, 1/4 teaspoon of ras el hanout, 1/4 teaspoon of Aleppo pepper and a pinch of cinnamon. 
Using a slotted spoon, transfer cooked meat to a colander placed in a mixing bowl. 
Repeat step 4 and 5 with remainder of the meat and discard the oil. 
Return the same skillet to medium heat and add 1/4 cup of olive oil. When hot, add onion along with a pinch of salt. Cover and cook, stirring occasionally for about 10 minutes, until the onion is soft and translucent.
Add the garlic, stirring to combine, and cook for another minute. Add the wine, stirring occasionally for about 25 minutes until the wine reduces and the pan is almost dry.
Add the reserved tomatoes and juice, stirring to combine. Bring to a simmer.
Add the reserved meat mixture, stirring to combine well.  Taste and season to taste with additional ras el hanout, Aleppo pepper and cinnamon. Lower the heat and simmer for 6 to 8 minutes.
Drain the currants and stir into meat mixture. Season with salt and pepper to taste. Cook for another 30 minutes and transfer to a bowl. Place bowl in the refrigerator to cool. 
While meat mixture cools, place a large saute pan over medium heat.  Add 1/4 cup olive oil. When oil is hot, add the potato slices, 6 at a time. Fry potato slices for about 15 minutes, turning occasionally. Transfer to a paper towel to drain.
When all the potatoes are cooked, drain half of the oil from the pan and return pan to medium heat. When hot, add the peppers and saute  for about 5 minutes. Season with salt and pepper to taste, remove from heat and transfer to a plate to cool.
Preheat oven to 500ºF.
Lay eggplant slices side by side on a baking sheet (you may need to cook eggplants in 2 batches). Brush each eggplant slice with olive oil on both sides and season with salt and pepper. 
Place pan in the preheated oven and roast for 14 minutes, flipping the slices after 8 minutes so that both sides are lightly charred. Transfer to a platter to cool.  
Lower the oven temperature to 350ºF.
Place the potato slices in an even layer on the bottom of a 13 x 18 x 2 baking dish. Then add a layer of eggplant slices, followed by a layer of peppers. 
Spoon the meat mixture on top of the peppers, spreading it evenly with a spatula. Top with a thin layer of béchamel and sprinkle with cheese. At this point, the moussaka may be covered with plastic wrap and refrigerated for up to 2 days before baking.
Place the moussaka in the preheated oven and bake for 25 minutes, or until bubbling around the edges.
Remove from the oven and let stand for about 10 minutes before serving.