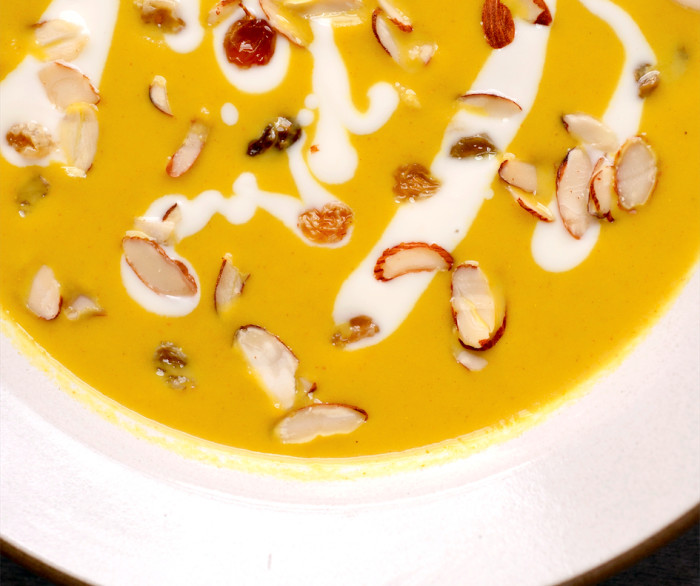 Everybody might be talking about the Hearth chef-owner's bone broth business, but Marco Canora has long been an advocate for healthy cooking. His new book, A Good Food Day, serves as both a recipe guide and a treatise for following simple rules about healthy living. Rule #1: Eggplant is everyone's friend. Here's tangible, delicious proof. 
This soup feels decadent because of how silky and luxuriously creamy it is. You'd think it'd been bombed with a ton of oil or cream, but the richness is all in the texture of the eggplant and the addition of almond milk and a little Greek yogurt. I typically use the Italian or globe varieties when I roast, fry or bread eggplant. Here, I go for the smaller Japanese eggplants, which have fewer, smaller seeds and a sweeter, more delicate flavor. Serving the soup with a spoonful of vinegar-soaked raisins provides some acidity and a pop of texture.
Ingredients
1/4

cup

extra virgin olive oil

2

small

yellow onions, chopped

1 1/2

teaspoons

ground cinnamon

2 1/2

teaspoons

ground cumin

2

teaspoons

ground ginger

1

teaspoon

turmeric

5

large

Japanese eggplants, peeled and chopped (about 8 cups)

fine sea salt

2

cups

unsweetened almond milk

1/2

cup

golden raisins

1

tablespoon

white wine vinegar

1/4

cup

plain full-fat Greek yogurt

1/2

cup

sliced almonds, toasted
Directions
In a large pot, combine the olive oil and onions, then turn the heat to medium-high.
When the onions start to sizzle, reduce the heat to medium-low.
Add the cinnamon, cumin, ginger and turmeric and stir to coat the onions with the spices.
Cover and cook, stirring occasionally, until the onions are translucent, about 15 minutes.
Add the eggplants and a couple pinches of salt to the pot and stir to thoroughly combine with the onions.
Cover and increase the heat to medium.
Cook, stirring every few minutes, until the eggplant is softened and its volume has shrunk in half, about 15 minutes.
Add the almond milk and 2 cups water.
Bring to a boil over high heat, then reduce the heat to low and simmer for 30 minutes.
While the soup simmers, reconstitute the raisins. In a small bowl, combine the raisins and vinegar.
Add enough warm water to cover by about 1/4 inch. Set aside.
Working in batches if necessary, pour the soup into a blender.
Add the yogurt and process until smooth.
Taste and adjust the seasoning.
Ladle into bowls and garnish with the sliced almonds, vinegar-soaked raisins and dollops of Greek yogurt.
Find more soup recipes on Food Republic: