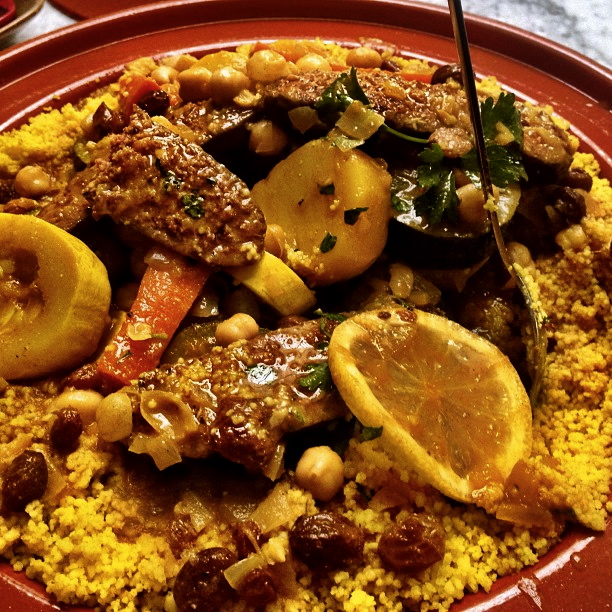 As you may know, we are big fans of merguez, a spicy Middle Eastern lamb sausage, so a merguez tagine was naturally a big hit at our last test kitchen.
For many people across North Africa, tagine is the quintessential comfort food, cooked in a vessel also called a tagine. You can use a Dutch oven or other heavy pot if you don't have a tagine. This dish can include any number of ingredients — feel free to use fish instead of meat — and can easily be made vegetarian. Don't be intimidated by the long list of ingredients; I usually go with whatever meat and vegetables I have on hand and that's what this dish is about. Simply toss the ingredients in a pot with the archetypal Moroccan spices: cinnamon, turmeric and cumin, allow to simmer in stock and serve over hot, fluffy couscous.
Ingredients
1

pound

merguez sausage

2

onions, sliced

1

fennel bulb, halved and sliced

1

lemon, quartered

1/2

pound

carrots, peeled, cut into fourths, then sliced lengthwise

1

small

butternut squash, peeled and chopped

3

cloves

garlic, chopped

1

cup

green olives, pitted

1/2

pound

zucchini, cut into fourths, then sliced lengthwise

1

cup

cilantro, finely chopped

1

cup

cooked chickpeas

1/2

cup

golden raisins

1/2

cup

dried apricots, roughly chopped

2

teaspoons

cinnamon powder

1

teaspoon

ground coriander

2

teaspoons

paprika

1

teaspoon

turmeric

3

teaspoons

cumin

3

cups

chicken stock

1/4

cup

olive oil

1

tablespoon

flour

1

10-ounce box

couscous
Directions
Heat the olive oil in a large, heavy pot. Use a tagine if you have one, but if not a big dutch oven will do. Add the cinnamon, coriander, paprika, turmeric and cumin to the pot.
Add the lemon, onion, fennel, garlic and green olives to the pot and cook until softened, for about 15 minutes. Taste for salt.
Meanwhile, brown the merguez sausage in a skillet over medium heat and reserve the cooking oils. Set aside.
Add the tablespoon of flour and mix well. Add 3 cups of chicken broth and allow to bubble for 5 minutes.
Place the merguez, plus the oil rendered from the merguez, and the remaining vegetables into the pot. Add the chickpeas, dried apricots and the raisins. Continue to cook over medium for 15 minutes, or until the vegetables are tender and the merguez is cooked through.
For the couscous, follow the directions on the box, and stir in the turmeric before covering the pot to give the couscous a bright yellow hue.
Garnish with cilantro and serve with couscous.
More Tagines From Food Republic: