Moroccan Chicken Patties With Date Confit Recipe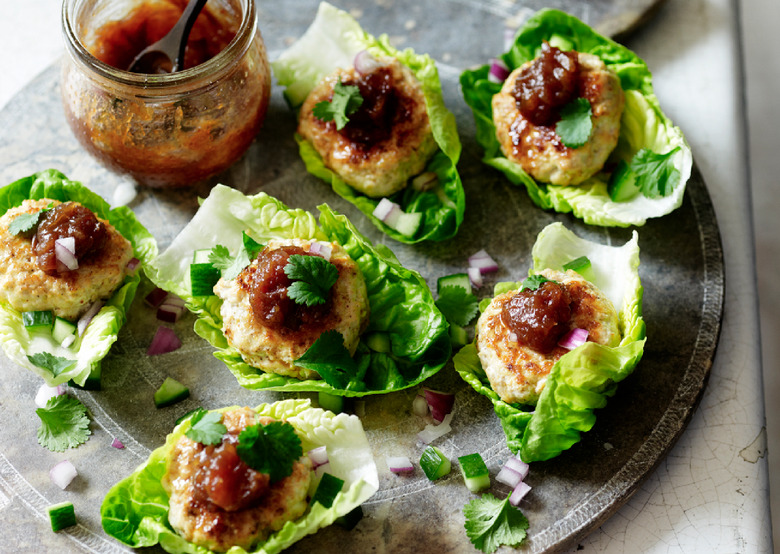 We may receive a commission on purchases made from links.
Renowned British chef Emma MacDonald is the founder of The Bay Tree, one of the UK's most beloved producers of pickles, relishes, jams, marinades and chutneys. MacDonald's new cookbook, The Artisan Market, is a collection of modern comfort food recipes with a deli-style twist. These lean spiced chicken patties make a great hors d'oeuvre or even a light dinner.
Each of these diminutive spiced chicken patties is served on a lettuce leaf with red onion and cilantro, topped with a spoonful of sweet chili-hot confit. Serve as a light meal with couscous and salad, or as canapes.
Moroccan Chicken Patties With Date Confit Recipe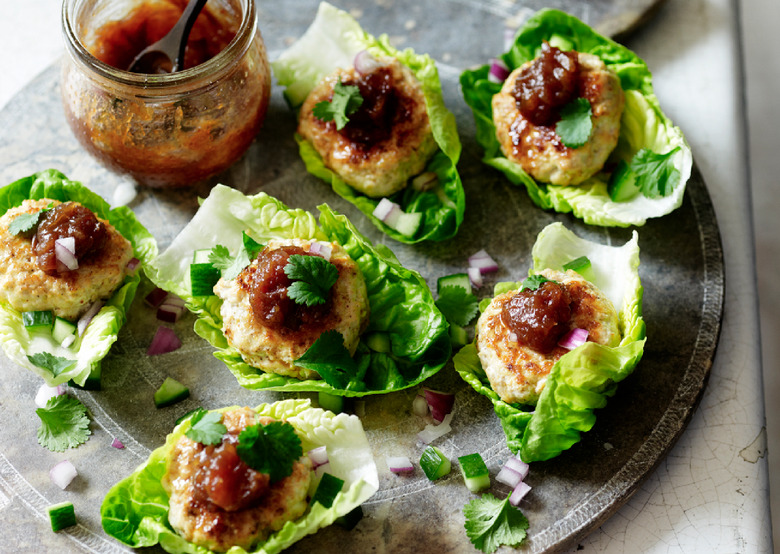 Ingredients
1 1/2 pounds boneless
4 garlic cloves
1-inch piece fresh ginger root
2 teaspoons Ras el hanout
3 tablespoons olive oil
1/2 teaspoon light brown sugar
16 small hearts of lettuce leaves
4-inch piece English cucumber
1 small red onion
1 handful cilantro leaves
20 ready-to-eat pitted dates
1 tablespoon olive oil
2 shallots
1/2 teaspoon ground cinnamon
1 Thai chili
1 teaspoon light brown sugar
2 tablespoons pomegranate molasses
sea salt and freshly ground black pepper
Directions
Put the dates in a bowl, cover with just-boiled water and leave for 1 hour. Meanwhile, heat the olive oil in a skillet and fry the shallots, covered, for 20 to 25 minutes until very soft.
Drain the dates and add them to the pan, squashing them with the back of a fork to break them down. Stir in 4 tablespoons water, the cinnamon, chili and sugar and cook for 5 minutes longer, or until it forms a thick jam consistency. Add more water if it is too thick. Stir in the pomegranate molasses and season to taste with salt and pepper. You can blend the mixture if you prefer a smoother consistency. Spoon the confit into a serving bowl and leave to cool.
Meanwhile, heat the oven to 100 degrees F. Grind the chicken in a food processor, then stir in the garlic, ginger and ras el hanout. Season to taste with salt and pepper. Form the chicken mixture into 16 equal balls, the size of golf balls. Flatten each one to make a little patty.
Heat two-thirds of the oil in a large, nonstick skillet over medium heat. Fry the patties, in two or three batches, if necessary, for 3 minutes on each side. Just before they finish cooking on each side, sprinkle with a little sugar and cook until slightly caramelized. Drain on paper towels and keep warm in the low oven while you cook the remaining patties, adding more oil when necessary.
Put a chicken patty on top of each lettuce leaf, scatter a little cucumber, red onion and cilantro over and top with a spoonful of the date confit. Serve warm or at room temperature.
Moroccan Merguez And Vegetable Tagine Recipe
Spicy Moroccan Shrimp Tagine Recipe
Moroccan Quinoa Recipe