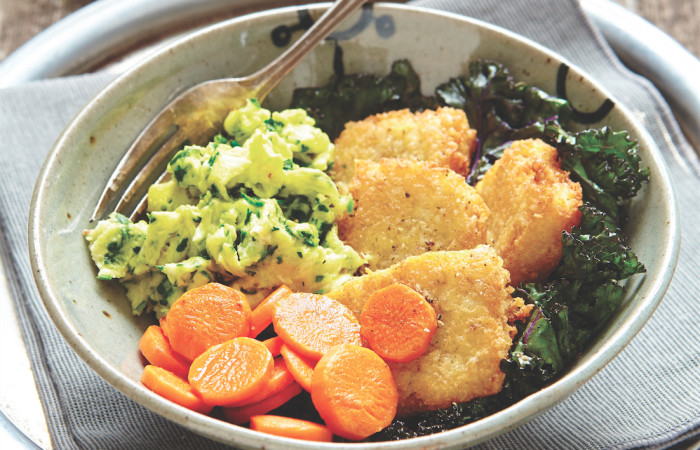 Unless you've been completely checked out for the past few years, you've noticed that the humble bowl has been elevated to more of a "large holy grail" when it comes to healthy cooking, fast-casual dining and all-in-one meals. Cookbook author and chef Robin Asbell is on it with a new collection of recipes that has everything you want (and more) all in one simple vessel. 
Make the polenta on Sunday, and you can enjoy it all week long. A quick scramble of pesto-laced eggs and some seared vegetables will get your day off to a seriously well-fed start. The polenta can be a great swap for grains in other bowls, too, and these toppings work just as well with amaranth or teff.
Ingredients
2

tablespoons plus 1 teaspoon

unsalted butter, divided

3/4

cup

coarse cornmeal

1/4

cup

buckwheat groats

1/4

cup

millet

3 1/2

cups

water

1

teaspoon

salt

1/2

cup

shredded parmesan cheese

1

cup

fresh parsley

1

clove

garlic

2

tablespoons

pine nuts

1/4

teaspoon

salt

1

tablespoon

extra-virgin olive oil

8

large eggs

olive oil, for pan

1

large carrot, sliced

1

bunch

kale, stems removed, chopped
Directions
For the bowl
For the polenta, butter a loaf pan with a teaspoon of the butter and reserve. Combine the cornmeal, buckwheat and millet in a 2-quart saucepan and whisk in the water and salt. Place over medium-high heat to bring to a boil, then reduce the heat to low or medium-low and stir, scraping the bottom of the pan, every 5 minutes. Cook until very thick, about 30 minutes. Stir in remaining butter and Parmesan. Scrape into the prepared loaf pan and smooth the top. Let cool, and chill until firm, if desired.

For the pesto, place the parsley, garlic, pine nuts, and salt in a food processor and process to a coarse grind. Scrape down and add the olive oil, and process until a paste is formed. Crack the eggs into a large bowl and whisk, then whisk in the pesto.

Slice the polenta into 12 slices and place them carefully on a plate to microwave, or you can sear them in a sauté pan. In a large sauté pan, smear a dab of olive oil and quickly sauté the carrot for a couple of minutes, remove to a plate, then sauté the kale for a couple of minutes and remove. Smear in a little more oil and scramble the eggs over medium heat.