Mole Poblano Recipe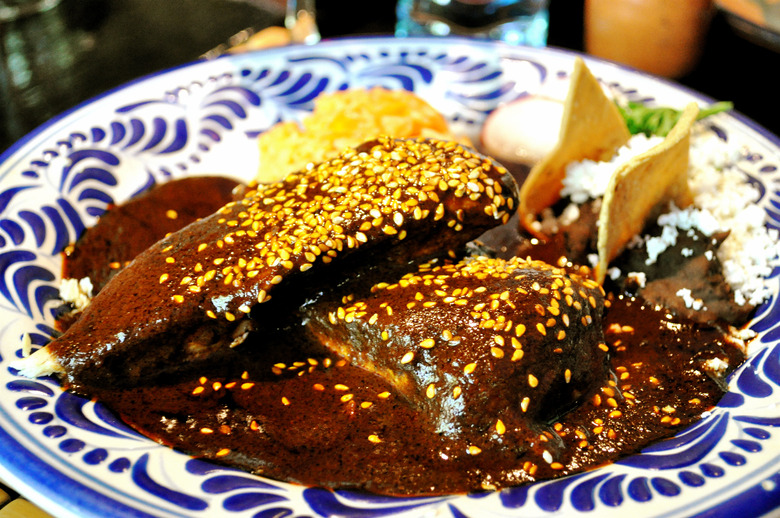 Make this mole in less than an hour! (Photo: Chantal Martineau.)
Chef Alonso Hernández, of Puebla's Mesón Sacristia de Compañía, likes to teach this most famous of the moles, a rich Mexican chocolate-chile sauce, in the cooking demo classes he offers guests. What used to take hours – if not days – to produce can now be whipped up in a blender in minutes. Ancho, mulato and pasilla peppers are blended with tomatoes, onions and garlic, as well as spices, almonds, raisins and, of course, Mexican chocolate. The secret ingredient? Maria biscuits, for texture. Animal crackers will do in a pinch. Hernández has another secret: he makes a salsa of burnt tortillas and fresh plantains to be blended in with the other components.
Mole was recently feted at the city's first annual International Mole Festival, a two-day event and as good a way as any to kick off this weekend's party. Perhaps, instead of celebrating Cinco de Mayo with tequila shots this year, you'll consider sequestering yourself in the kitchen with a pile of chiles and chocolate to make a meal that really means something on this important historical day. OK, so maybe not instead of tequila. The two actually make quite the flavorful pair.
Also read: Puebla: 5 Places to Eat In Mexico's Food Mecca for more of the region's best bites.
Mole Poblano Recipe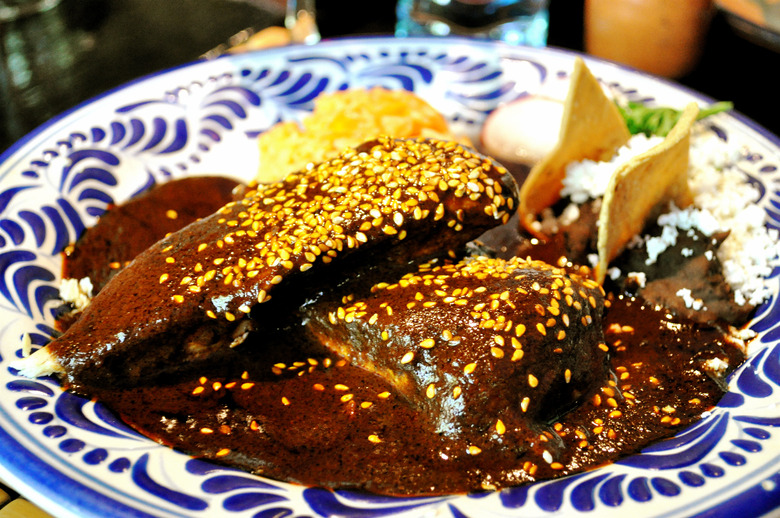 Ingredients
3 mulato chiles
3 ancho chiles (dried poblanos)
3 pasilla chiles
6 tomatoes
1 onion
2 garlic cloves
1/2 cup vegetable oil
1 small fist-sized piece Ibarra chocolate
1 corn tortilla
1 cup sugar
5 cups water
1 plantain
1 teaspoon salt
Directions
Remove stems and seeds from chiles
Roast tomatoes, onion and garlic until brown and soft.
Fry chiles in 1/4 cup of vegetable oil until crispy (when oil is hot, the process take seconds).
Boil roasted vegetables and chiles in 4 cups water in large pot until soft.
Combine all ingredients in batches in a blender and grind, then pass through a strainer.
In a separate pan, fry plantain until golden brown.
Put tortilla directly over flame and burn it.
Combine plantain and tortilla in blender with 1 cup of water and blend. Remove and set aside.
Fry the vegetable sauce in pan and let cook for few minutes. Return to pot.
Add the tortilla and plantain sauce to strained vegetable mixture in pot.
Add chocolate and sugar. Stir until smooth.
Salt to taste and let cook for 25 minutes.
To serve, pour mole over cooked chicken and top with sesame seeds.