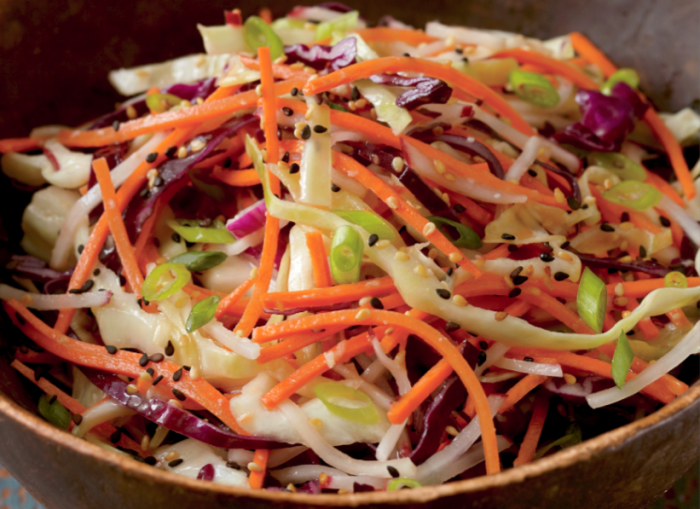 Now here's a cookbook we're on board with. Keepers, penned by two accomplished home cooks and former food editors, is full of recipes that even the most kitchen-challenged can pull off any old night of the week. Sit down, get comfy and let the pros take you on a tour of tonight's super-easy dinner recipe. Make this Asian-influenced slaw for a bold twist on the picnic classic.
Credit for this vibrant soy-sesame-and miso flavored slaw goes to Kathy's friend Michael Dougherty, a kitchen designer with a flair for entertaining and cooking. Serve it with all kinds of dishes, including burgers, fried chicken and grilled steak. Michael suggests making the dressing the night before so the flavors have time to blend. He also uses it as a marinade for meat or fish, first thinning it a bit with some soy sauce and/or mirin (Japanese sweet rice wine).
Ingredients
2

tablespoons

rice vinegar (not seasoned) or white wine vinegar

2

tablespoons

white miso paste

1

teaspoon

grated fresh peeled ginger

1/2

tablespoon

mayonnaise

1/2

tablespoon

fresh lemon juice

1/2

teaspoon

honey

3

tablespoons

sesame oil

2

tablespoons

grapeseed oil or vegetable oil

Salt and pepper

6

cups

thinly sliced (crosswise) green and/or red cabbage (about 1 small head total)

2

large carrots, julienned or thinly sliced

4

large radishes, julienned or thinly sliced

4

scallions (white and pale green parts only), thinly sliced on the diagonal

2

tablespoons

black and/or toasted white sesame seeds
Directions
In a small bowl, whisk together the vinegar, miso, ginger, mayonnaise, lemon juice, and honey. Slowly whisk in the sesame oil until emulsified, then the grape-seed oil. Season with salt and pepper and set aside. (You can also make the dressing in a blender.) The dressing will keep, covered in the refrigerator, for about 4 days. Whisk before using.
In a large bowl, combine the cabbage, carrots, radishes, and scallions. Add a little more than half of the dressing and toss to combine. If the slaw is too dry, add a little more. Check the seasonings, then sprinkle with the sesame seeds (if using) and serve.
Try out these recipes with slaw on Food Republic: