Mini Stuffed Lamb Meatballs With Pomegranate Glaze Recipe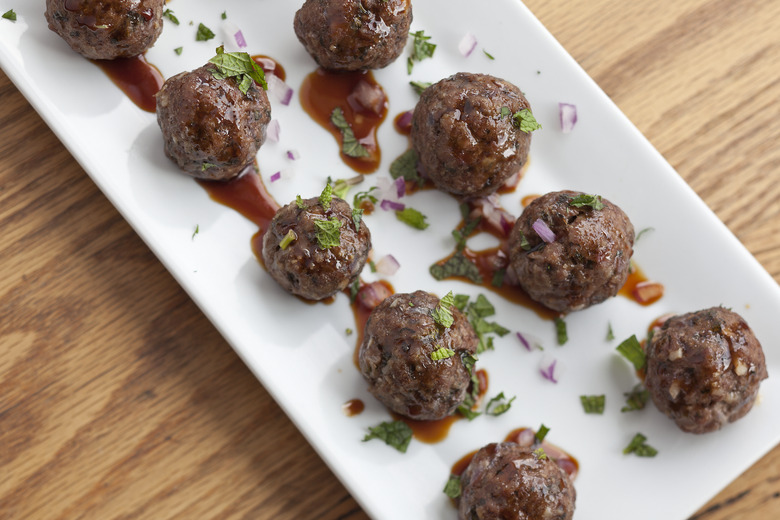 Photo: Alexandra Winsby
These mini stuffed lamb meatballs are just about everything you could ask for in a one-bite party snack: meaty, cheesy, tangy, savory and sweet all at the same time. Do not underestimate the amount of these people will eat, particularly the ones who realize they love ground lamb all of a sudden after years of claiming not to like lamb.
The sautéed onion and garlic will keep the meatballs juicy while they're baking, the mint makes everything more delicious and the breadcrumbs will help form an effective meat barrier to keep the feta inside. A meatball-stuffing tutorial, you say? Check out our mozzarella-stuffed meatballs for a play-by-play. You can find the pomegranate molasses for the glaze at Middle Eastern, Indian and Asian markets.
Love feta and pomegranate molasses but find lambs too cute to eat? Bring on the eggplant.
Mini Stuffed Lamb Meatballs With Pomegranate Glaze Recipe
Servings
20
or so mini meatballs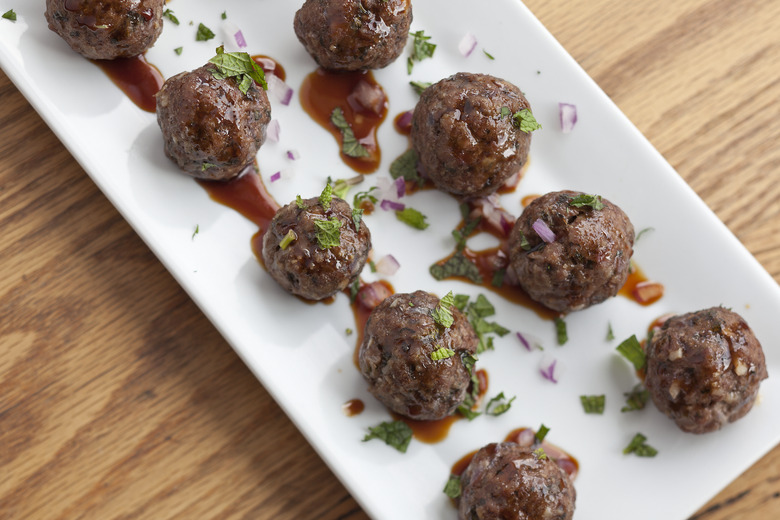 Ingredients
1 tablespoon olive oil
1/2 large red onion finely chopped
2 cloves garlic
1 pound ground lamb
1/3 cup plain breadcrumbs
1/3 cup fresh mint leaves very finely chopped
1/2 teaspoon Chinese 5-spice powder
1 teaspoon kosher salt
1/2 teaspoon freshly ground black pepper
1/4 pound Greek feta
1/2 cup pomegranate molasses
Directions
Heat the olive oil in a medium pan, then sauté the onions and garlic until translucent, about 5 minutes. Remove from heat and allow to cool.
In a large bowl, mix the onion-garlic mixture, ground lamb, breadcrumbs, mint, 5-spice powder, salt and pepper with your hands until just combined — don't overmix.
Preheat the oven to 375F.
Take a cube of feta and form the lamb mixture around it, then roll lightly between your hands to make a meatball slightly smaller than a golf ball. Repeat using the rest of the lamb, lining them up without touching on a foil-lined baking sheet.
Bake for 20-25 minutes until cooked through. 
Remove from oven and cool for 15 minutes, pour pomegranate molasses into a small bowl.
Lightly dip each meatball in the molasses, then transfer to a serving platter.
Garnish with chopped red onion and mint and serve.
Avocado-Stuffed Meatballs
The Meatball Shop's Mortadella Meatballs
Albóndigas Con Salsa Verde