Mini Roast Beef Sliders Recipe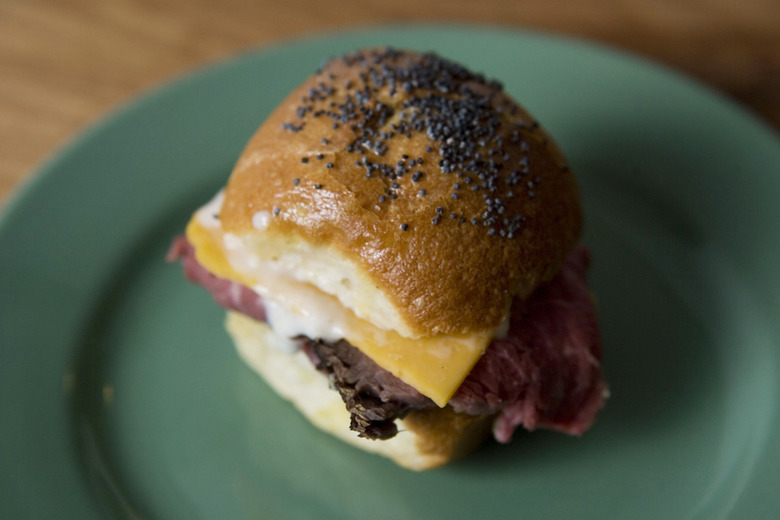 We quickly realized at the Food Republic Test Kitchen afterparty that we were going to run out of these mini roast beef sliders. Unabashed consumption is the sincerest form of flattery.
Since finding poppy seed slider buns proved to be a difficult task even for the most stalwart intern, we decided to bake our own (read: pop open the dinner roll canister and lay each pre-formed puck of dough on a cookie sheet). Remove the rolls from the oven about five minutes before they're ready, brush with a mixture of one egg beaten with 1/2 teaspoon of sugar and sprinkle with poppy seeds. Return them to the oven until golden brown and shiny on top.
Best of all, we managed to make dude food cute. Look at it. Look at that little sandwich with its teeny cheese slices. You're gonna grow up to be a big strong hoagie, yes you are!
Mini Roast Beef Sliders Recipe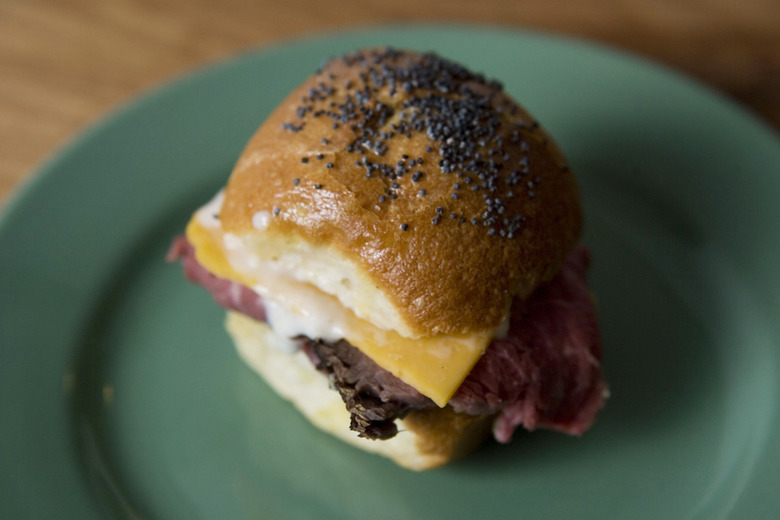 Ingredients
1 large egg
1/2 teaspoon sugar
1 cup mayonnaise
1/3 cup prepared horseradish
1 tablespoon white vinegar
1/2 teaspoon
2 cans frozen dinner roll dough
2 pounds roast beef
1 pound deli-style cheddar cheese slices
3 tablespoons poppy seeds
Directions
In a small bowl, beat egg and sugar together until fully combined and set aside.
In another bowl, combine mayonnaise, horseradish, vinegar and black pepper and set aside.
Follow dinner roll dough instructions on the package, then remove from oven five minutes before they're finished. Brush lightly with the egg wash, and sprinkle generously with poppy seeds.
Finish baking rolls, then remove from oven and allow to cool completely - at least 20 minutes. 
Slice each dinner roll in half and assemble in the following order: 1-2 folded slices of roast beef, 1 cheddar slice quarter and a generous smear of horseradish sauce on the upper bun.
Skewer down the middle with a toothpick or cocktail pick to hold together, if necessary, and serve.