Super Bowl Snacks: Mini Meatball Subs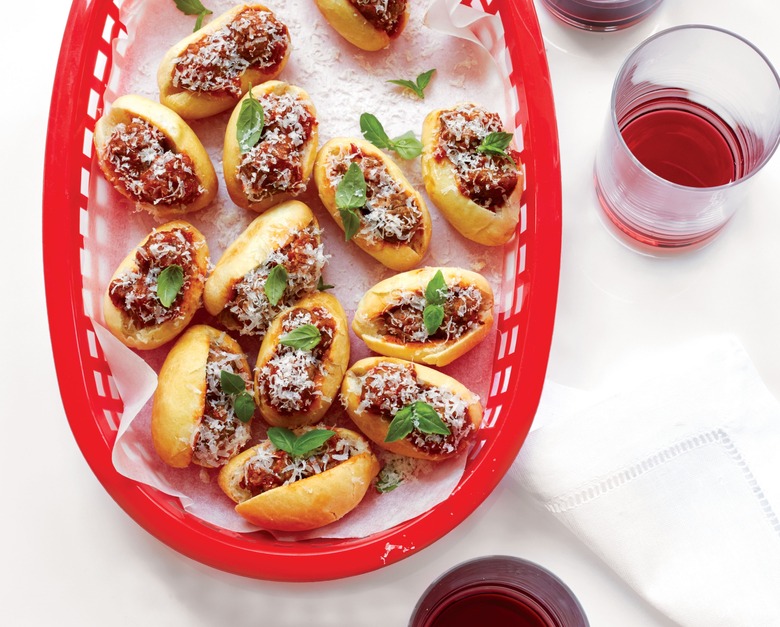 We may receive a commission on purchases made from links.
Your party food needs an update. It's not like people have stopped loving stuffed mushrooms, that will never happen, but if you can miniaturize a dish people absolutely love, you're heading for a slam dunk. Join Peter Callahan, NYC's caterer to the stars, and revamp your special occasion menus in delightful ways. Try these mini meatball subs on for size!
A meatball sub is the classic example of something that, at full size, could never be done at a party. It's traditionally a very heavy meal, but if you shrink it way, way down — we shrink it to about an inch and a half — it might be called adorable and cute and make the guys happy as well. People enjoy sub shop fare in the smaller scale. We shave a little bit of Parmesan over the top and add a baby basil sprig (picking tiny leaves from the very center of the basil stem).
Notes: Substitute your favorite recipe for the rolls if you prefer. Or, if you're short on time, buy King's Hawaiian dinner rolls and cut them down to 2½ inches in length.
You will have extra marinara sauce after assembling the heroes; freeze it for another use.
Super Bowl Snacks: Mini Meatball Subs
Revamp your special occasion and sporting event menus in delightful ways with star caterer Peter Callahan. Try these mini meatball subs on for size!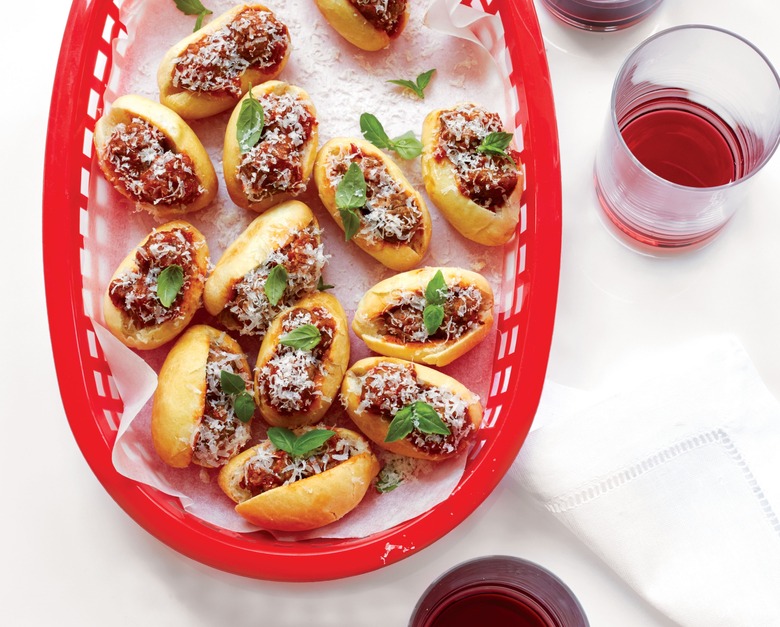 Ingredients
3/4 cup warm (110°F) water
1 teaspoon active dry yeast
1 3/4 teaspoons sugar
1/2 cup nonfat dry milk powder
2 large eggs
2 cups bread flour
3/4 teaspoon coarse salt
4 tablespoons unsalted butter
1 teaspoon extra-virgin olive oil
2 quarts marinara sauce
2 teaspoons extra-virgin olive oil
4 garlic cloves
1 pound ground beef (20 percent fat)
1 cup bread crumbs
2 large eggs
1 cup grated Parmesan cheese
1/2 cup chopped fresh flat-leaf parsley
1/4 cup shaved Parmesan cheese
Baby basil sprigs
Directions
:::buns:::
In the bowl of a stand mixer, whisk together ¼ cup of the warm water, the yeast, and ¼ teaspoon of the sugar. Cover with plastic wrap and set aside until foamy, about 5 minutes.
Uncover and add the remaining ½ cup warm water, the remaining 1½ teaspoons sugar, the powdered milk, 1 egg, and 1 cup of the bread flour. Sprinkle the salt over the flour and beat with the paddle attachment on low speed until the mixture is moistened, 1 to 2 minutes. Increase the speed to medium-high and beat the dough until smooth, about 10 minutes.
Stop the mixer and switch to the bread hook attachment. Add ¼ cup of the remaining bread flour and mix on low speed until most of the flour is absorbed. Add a few butter cubes and beat until incorporated. Then add another ¼ cup of the flour. Continue to alternate adding flour and butter until they're both completely incorporated and the dough cleans the side of the bowl during mixing, about 7 minutes (add 2 to 3 more tablespoons flour if needed).
Turn the dough out onto a lightly floured work surface and knead until it forms a ball, 2 to 3 minutes. Grease a large bowl with the olive oil, place the dough ball in the bowl, and turn it to coat with oil. Cover with plastic wrap and set aside until the dough has doubled in size, about 1½ hours.
Punch down the dough, turn it out onto a lightly floured work surface, and divide it in half. Roll each piece into a log 12 inches long and 1 inch wide. Cut each log into 18 pieces. Roll each piece into an oval and slightly flatten it. Place the pieces on a parchment-paper-lined baking sheet, leaving 2 inches between them. Cover with plastic wrap and let the dough rise in a warm, draft-free spot until the loaves are about ½ inch high, 12 to 15 minutes.
Meanwhile, preheat the oven to 350°F.
In a small bowl, whisk the remaining egg with 2 tablespoons water. Lightly dab the top of each dough ball with the egg wash. Bake until the buns are golden brown, about 10 minutes, rotating the baking sheet halfway through. Remove from the oven and set aside to cool completely, about 20 minutes.
:::meatballs:::
In a 5- or 6-quart pot, bring the marinara sauce to a slow simmer over low heat.
Heat the oil in a small sauté pan over medium heat. Add the garlic and sauté until just soft, but not browned. In a large bowl, combine the sautéed garlic, ground beef, bread crumbs, eggs, Parmesan, parsley, cream, salt, and pepper and mix thoroughly with clean hands. Shape the meat into 1-inch balls (we use a #100 disher). You'll want to fit at least 2 meatballs into each mini sub.
Add the meatballs to the sauce and simmer until cooked through, about 15 minutes.
:::assembly:::
Use a serrated knife to slice each bun at a 45-degree angle, starting at the top right corner and slicing three-quarters of the way through the roll. Place 2 meatballs in each roll, dust with shaved Parmesan, and top with a sprig of basil. Serve warm.