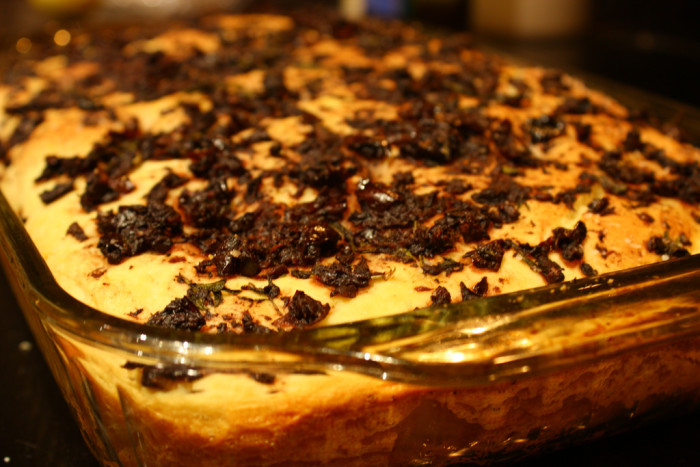 These hearty and flavorful appetizers taste best served warm or at room temperature. They can be made ahead of time and then quickly reheated when ready to serve.
Ingredients
2

cups

bread flour

2 1/4

teaspoons

active dry yeast

1

teaspoon

salt

2

teaspoons

olive oil

1

cup

warm water

1

garlic clove

1

cup

pitted kalamata olives

2

tablespoons

capers, drained

2

teaspoons

fresh lemon juice

1/8

teaspoon

freshly ground black pepper

finely minced tomato, for garnish
Directions
In a large bowl, combine the flour, yeast, and salt. Stir in 1 teaspoon of the oil and as much of the water as needed to make a cohesive dough. Mix until combined then use your hands to knead it until it holds together.
Transfer the dough to a floured work surface and knead until it is smooth and elastic, about 10 minutes. Shape the dough into a smooth ball and place in an oiled bowl. Cover with plastic wrap and let rise at room temperature in a warm spot for 1 hour.
In a food processor, mince the garlic. Add the olives, capers, juice, the remaining 1 teaspoon oil, and the pepper and process to a coarse paste. Transfer to a small bowl and set aside.
Preheat the oven to 400˚F. After the dough has risen, transfer it to a floured work surface, punch it down, and gently stretch and roll it to ¼-inch thickness. Use a 2-inch pastry cutter or drinking glass to cut out 24 rounds. Place them on an ungreased baking sheet (or glass baking dish) and bake until crisp and golden brown, about 15 minutes.
While still warm, top each round with a teaspoon of tapenade. Sprinkle with a few bits of minced tomato, others with a basil leaf, and the rest with rosemary sprigs. Arrange on a platter and serve warm. If not using right away, leave off the garnishes until ready to serve and cover the foccacia and store at room temperature for up to several hours, reheating briefly just before garnishing and serving.