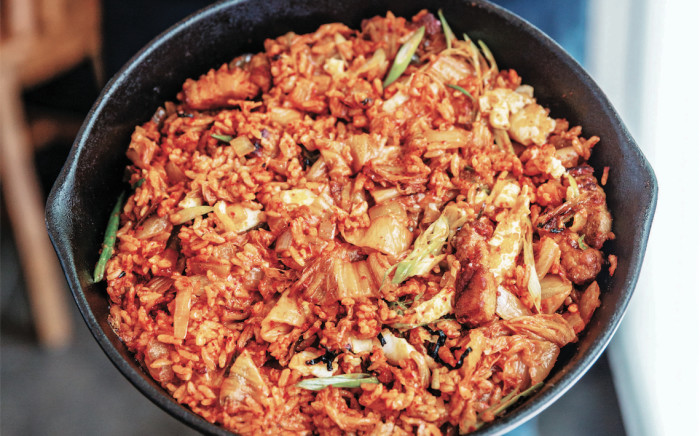 Korean-food aficionado and former Food Republic editor Matt Rodbard has partnered with NYC chef Deuki Hong to release the best Korean cookbook you'll find this side of the Hangang (that's a river in Seoul). Dive into America's famed Koreatowns with these two experts and find yourself in the kitchen with a hot wok, a lot of sesame oil and plenty of kimchi. 
Bacon. We kept coming back to bacon when talking about this kimchi fried-rice recipe. Bacon is quintessential Americana. Our kimchi fried rice needed bacon, and for months we tested and were continually disappointed that the essence of bacon — Americana! — was being muted by either too much rice or too much kimchi. Then it came to us. We needed to use more bacon! Like a lot more. Like how French chefs view mashed potatoes: equal parts butter and potatoes. That's scary, right? Also scary good.
We went that direction here, and by the grace of God and Allan Benton did this ever work. The crispy rice unites with the decadent gochujang butter, while the bacon is there just being wonderful. And remember, the key to good fried rice is using cold day-old rice, which is nice and dried out and gives you a much better fry. So the next time you order takeout, get an extra order of rice and keep it in the fridge for a day or so. And if you didn't plan ahead, no sweat. Make some rice, lay it out on a sheet tray and freeze until cold.
Ingredients
1/2

pound of

slab bacon, roughly chopped

1

medium onion, cut into small dice

2

garlic cloves, minced

1-inch

knob of

ginger, minced

1 1/2

cups

chopped extra-aged napa cabbage kimchi

2

cups

cooked rice, preferably day-old

1

tablespoon

gochujang

2

tablespoons

butter, softened

2

eggs, fried sunny-side up

2

scallions, sliced thin
Baechu kimchi - cabbage
12

cups

water

1

cup

coarse sea salt

1

large napa cabbage (2 to 3 pounds)
Rice flour paste
2

tablespoons

sweet rice flour

1

cup

water
Marinade
1

small onion, roughly chopped

1/2

cup

roughly chopped, peeled Asian pear

2-inch

knob of

ginger, roughly chopped

6

garlic cloves, minced

4

Korean red chili peppers, trimmed and cut in half

1/4

cup

water

1/2

cup

salted fermented shrimp

1/4

cup

sugar

1/2

cup

rice flour paste

1

cup

coarsely ground gochugaru

1

bunch

scallions, green parts only, thinly sliced

1

carrot, grated

1/2

cup

peeled and grated daikon radish
Directions
For the kimchi
Brine the cabbage: In a large container, combine 12 cups of cold water and the sea salt. Cut the napa cabbage head lengthwise, then into quarters. Place in the salt water and brine for 6 hours at room temperature. The brining step both adds flavor and opens the cabbage's pores, allowing the marinade to soak in. Rinse in cold water and have a little bite. If you would prefer it saltier, brine for another 6 hours to overnight; it's a matter of personal preference.

Make the rice flour paste: Once the cabbage is brined, make the rice flour paste. In a small saucepan over medium-high heat, continually whisk the sweet rice flour and 1 cup water until it reaches a boil. Keep whisking for 2 minutes until it reaches a pudding-like consistency. Remove from heat, transfer to a container and refrigerate until cool.

Make the marinade: Combine the onion, Asian pear, ginger, garlic, chile peppers and ¼ cup water in a food processor and run until smooth, then transfer to a large bowl. Add the shrimp, sugar, rice flour paste, gochugaru, scallion greens, carrot and daikon and combine well.

Drain the brined cabbage, rinse each piece well in cold water and place them in a very large bowl. While wearing plastic gloves, toss the cabbage with the marinade, coating well. Transfer to clean, large glass jars or clean plastic containers with lids that fit snugly. You can cut the cabbage to fit if you want, or keep the leaves whole and pack them tightly in the jars. Affix the lids, though not too tightly, and place the jars in a cool, dark and dry space and allow to ferment for 1 day. Heads up: The fermentation process may cause some kimchi juice to bubble over, so place the jars in a plastic bag. When done, refrigerate for 5 to 7 days, or until the kimchi has reached your desired level of funk. It will keep for up to a month in the refrigerator to enjoy eaten directly from the container, or longer for use in further cooking, like in Kimchi Jeon and Kimchi Jjigae.
For the fried rice
In a large skillet, wok or cast-iron pan over high heat, cook the bacon, stirring, until fat is fully rendered and the bacon is barely starting to crisp. Pour out all but 2 tablespoons fat.

Add onion, garlic and ginger and sauté for 1 minute, or until very aromatic. Add chopped kimchi and rice and sauté, stirring frequently, for 4 to 5 minutes, or until very hot. Drop the heat to medium-low and flatten the rice with your spatula. Continue to cook until the bottom layer is crispy, about 2 minutes; think Spanish paella here. The longer you leave it, the more crispy the bottom will become, but be careful not to burn the garlic.

While the rice continues to crisp, in a small bowl mix together the gochujang and softened butter.

Serve from the pan or wok, topped with fried eggs, sliced scallions and gochujang butter.