Midnight Food Porn: Sam Talbot's Butter-Poached Lobster Roll Recipe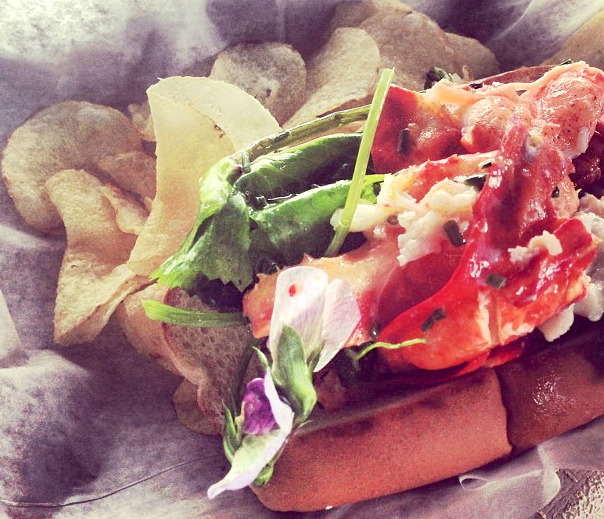 Happy Lobster Roll Week! To celebrate this sweet, briny jewel of the summer sandwich menu, we're running five straight days of recipes, interviews, chefs' expert tips and pairings. If you thought you were craving a buttery bun stuffed with fresh lobster meat before this official celebration, it's about to get critical. Pick up a lobster or four and churn out one of the most important dishes of the summer. Fishmaster Sam Talbot pairs his with a light white wine.
Says Chef Talbot:
"In the summertime, there's nothing better than fresh seafood paired with a refreshing glass of wine. My poached lobster roll pairs nicely with Thorny Rose Pinot Grigio because the wine's light complexity and notes of peach and lemon nicely complement the flavors of the lobster."
Midnight Food Porn: Sam Talbot's Butter-Poached Lobster Roll Recipe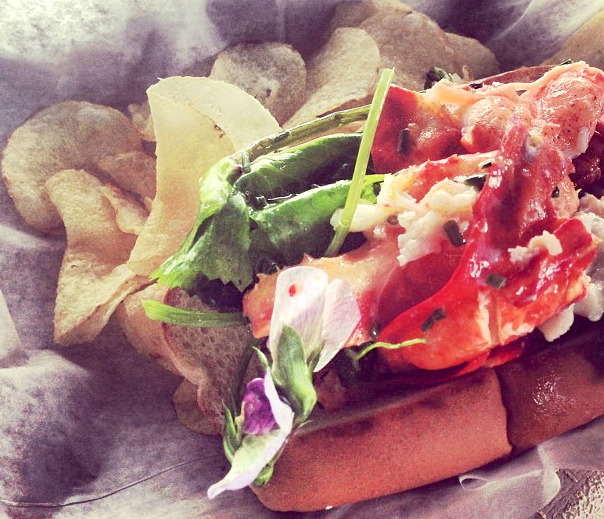 Ingredients
1/4 cup unsalted butter
1 pound raw lobster meat removed from shell
2 tablespoons chopped chives
1/2 cup Bibb lettuce
handful of celery leaves
pinch of Himalayan sea salt
pinch of pink peppercorn
1 organic lemon
2 buns of your choice
Directions
Bring the butter to medium heat, add the lobster and poach a second time for about 60 to 90 seconds.
With a slotted spoon, scoop the lobster into a mixing bowl and set aside. Add the lemon juice, chives, celery leaves, sea salt and freshly ground pink peppercorn to mixing bowl. 
Gently slice lobster meat into smaller pieces and toss with spices until mixed throughout.
Toast buns, brushing with the melted butter and some sea salt.
Place the lobster meat inside and garnish with lettuce and enjoy immediately.
Lure Fishbar's Lobster Roll Recipe
Simple Grilled Whole Lobster Recipe
Lobster Cocktail With Oven-Dried Cherry Tomatoes Recipe