Party Fare: Middle Eastern Lamb Nachos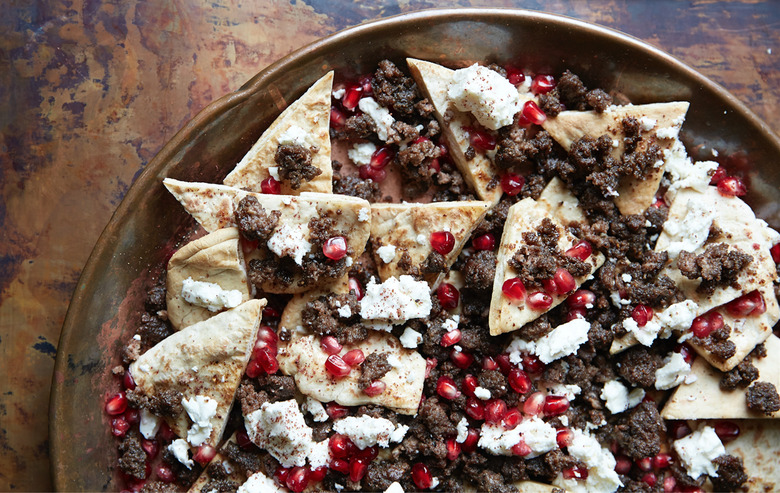 We may receive a commission on purchases made from links.
Chef John Whaite, of Great British Bake Off fame, has a collection of recipes out that highlights the simple, rather than the ornate. This latest cookbook, Perfect Plates, promises the home cook one very important thing: no recipe calls for more than five ingredients. Ideal for pantry cooking nights, beginners and anyone else who appreciates the beauty of a delicious, uncomplicated meal will love this book. These Middle Eastern lamb nachos will be the star of any party. 
Real party food is the sort of stuff you just have to keep going back to, emboldened by the booze, and against the judgement of others. That's true in my case, anyway. But these really are sensationally good, and so different from the boring old chips 'n' dips you'd expect to stumble upon at a disco spread. The idea is, based on the chapter title, that these are for sharing with a crowd, but this recipe would make a lovely midweek supper too.
Party Fare: Middle Eastern Lamb Nachos
These delicious Middle Eastern lamb nachos will be the star of any party. Grab a pack of pitas and make this great dish happen!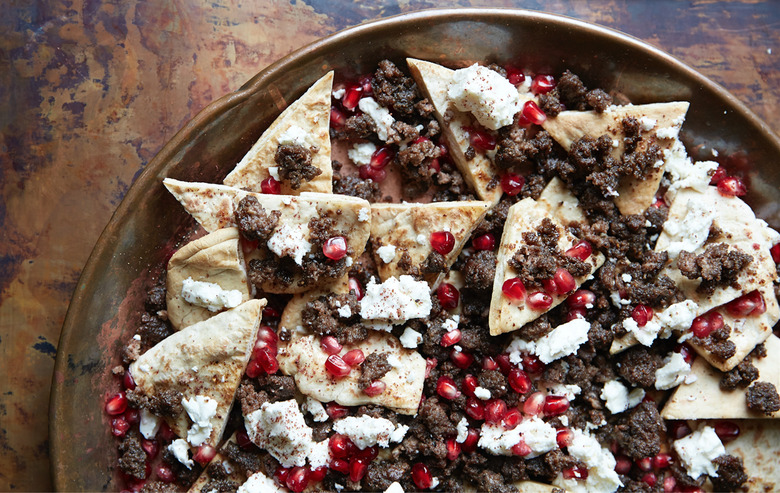 Ingredients
6 pita breads
18 ounces ground lamb (20% fat)
2 tablespoons sumac
1 small pomegranate
3 1/2 ounces Feta cheese
sea salt flakes
coarse black pepper
olive oil
Directions
Preheat the oven to 425°F.
Cut the pita breads into bite-sized triangles — I cut each one into about six — and place them, well-spaced, onto a large baking sheet. Once the oven is hot, bake the pita pieces for 15 minutes, until crisped up, and ever so slightly browned. Remove the sheet from the oven, but leave the pita pieces on it to crisp even more as they cool.
In a mixing bowl, mix together the lamb and sumac with 1 teaspoon each of salt and pepper, and 3 tablespoons olive oil—I use my hands to squelch everything together, so that it's all perfectly mixed. Heat 1 tablespoon olive oil in a skillet—one you have a lid for—over high heat. Once the oil is hot, add the ground lamb and fry, turning once, until lightly browned. Cover with the lid to trap in the steam. Reduce the heat to low, and cook for 15 minutes the lamb should be flavorful and tender, and there should be a little bit of juice in the pan.
Scatter the pita pieces around the serving plate and scatter the spiced lamb over the top.
Top with the seeds from the pomegranate (I slice the pomegranate in half, hold one half cut-side down over the plate, and bash the top side with the back of a wooden spoon, scattering seeds and juice on top of the lamb).
Finish by crumbling over the feta, and adding an extra sprinkling of sumac.