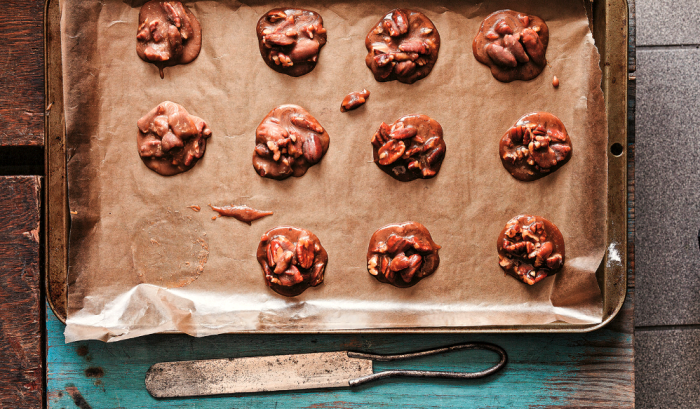 This cookbook was inspired by David Simon's award-winning HBO series, Treme, and no offense to Breaking Bad or anything, but we'd rather cook recipes from this show, thanks. Learn simple homestyle recipes for your favorite New Orleans dishes. Ever made pralines in the microwave? Prepare to be blown away.
You would think I would have been the one telling my mother about microwave pralines. But no —she was the one telling me. I guess after all those years of toil and trouble cooking from scratch, she was glad to see an easier way. These taste just as good as the ones we used to make on the stove, I promise you. But one thing you need to be aware of: if it's real humid, sometimes the pralines don't set right. Nowhere on Earth is more humid than New Orleans, and I make them here all the time. But don't think you can be inside making pralines on a day when it's hot and rainy outside.
In the unlikely event your first try produces a batter that comes out too runny to set up properly into distinct pralines, don't worry: It will still make a generous 3 cups of "praline sauce" to serve over ice cream or unfrosted cake. And in case you want to make the praline sauce on purpose, the instructions are also in the recipe.
You don't have to have a handle on the dish you use. But if you don't want to burn the hell out of your hand, it'll help. In fact, I usually wear heavy oven mitts, too, when I'm doing this dish. Also, please note: chopped nuts are too small for pralines and pecan halves are too big. Cut the halves in half.
Ingredients
1

pound

light brown sugar

1

cup

heavy (whipping) cream plus 1 to 3 teaspoons cream or milk for thinning batter

2

tablespoons

light corn syrup

2

cups

pecan halves, cut in half again

4

tablespoons

unsalted butter, at room temperature, cut into 4 pieces

1

tablespoon

vanilla extract
Directions
Line a heatproof surface like a countertop or 2 baking sheets with wax paper.
In an 8-cup microwave-safe glass measur­ing cup with a handle, combine the brown sugar, cream and corn syrup, mixing until all the sugar lumps are dissolved and the bat­ter is well blended.
Position the measuring cup in the micro­wave so you can see how the batter inside measures; the batter will be at or near the 2 1/2-cup mark. Microwave on high without covering or stirring, watching it continu­ously, until the mixture slowly bubbles up to slightly higher than the 8-cup mark and then deflates to near the 4 1/2-cup mark, 10 to 16 minutes (depending on how quickly your microwave cooks). Do not open the microwave during the cooking process and, if in doubt, cook for less time, not more.
If you want to make praline sauce instead of pralines, let the batter cook as directed until it has expanded to slightly over the 8-cup mark and then has slowly deflated just to the 7-cup mark. Use warm or at room temperature. Refrigerate the leftovers, tightly covered, for up to 1 week.
Carefully remove the very hot measuring cup from the microwave and, using a sturdy metal mixing spoon, gently stir in the pecans, butter and vanilla, being careful to not splash any of the hot mixture on your skin. Continue stirring until the mixture is noticeably less glossy, about 3 minutes.
Working quickly, and using two spoons, scoop rounded tablespoonfuls of the mixture onto the wax paper, about 1 inch apart and, using a second tablespoon to push the batter off the mixing spoon. If necessary, thin the batter with the remaining 1 to 3 teaspoons of cream as you reach the end of the batter and it thickens as it cools.
Let the pralines cool to room temperature, about 20 minutes, then serve as soon as possible. Any leftovers can be stored in an airtight container at room temperature for up to 4 days.
Try out these dessert recipes on Food Republic: